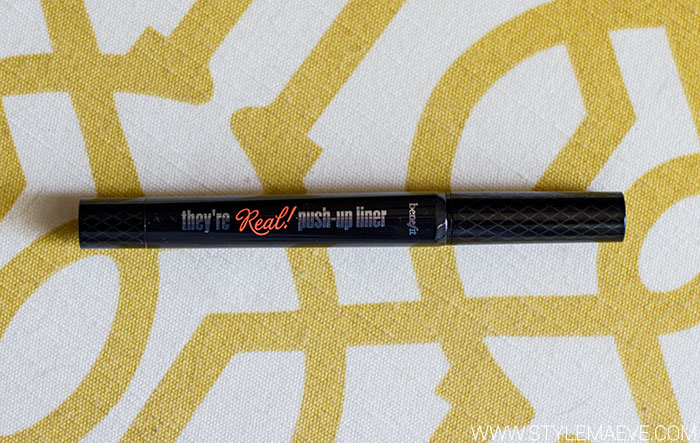 Last week I received the latest eye liner by Benefit Cosmetics, 'They're Real! Push Up Liner', and couldn't wait to try it since I have heard some good reviews about it online. I purchased mine by going to thelinetofine.com and signing up for early access, but They're Real! Push Up Liner is now available in stores and online for $24.
Let me start by telling you a little bit about the product. It is a waterproof gel liner that has an AccueFlex tip to help hug the lash line – in other words, it is supposed to help you get as close to your lash line as possible. If you are familiar with gel liners then you know that you normally apply it with a brush. The difference with this liner is that the gel is inside the pen and with just a few clicks the gel comes out out of the slanted rubber tip, so there is no need for a brush.
Now that I have had the chance to try it out a bit, here is what I liked and didn't like…
Pros:
Intense matte black color – Perfect for achieving a bold look!
Waterproof/Long Lasting – This gel will not budge! So much so that it needs a special remover.
Easy to dispense gel – Just turn the bottom tip to dispense gel.
Glides on nicely – Soft rubber tip is easy on the delicate eyelid.
All in one – No need to carry around a gel pot and a brush.
Cons:
Dries too quickly – Not much room left for error so you are going to need practice to get it right quick!
Flakes – If too much product is applied, it can become flaky and leave your line looking patchy.
Did not hug my lash line – I had to maneuver the pen a little to get it as close as possible to my lash line.
Tough to remove – You need to either purchase the special remover, or make sure to use an oil based make up remover to remove easily and completely.
Although Benefit claims this liner is super easy to apply and perfect for beginners and pros alike, here are some tips for getting the best line:
Use small strokes to draw your line instead of one long stroke like with liquid liner.
Use the pen in both directions to get the best coverage and fill in your line.
1 or 2 clicks is enough to avoid using to much product which can cause flakiness.
Have you tried it yet or are thinking about trying it? Let me know!
Benefit Cosmetics 'They're Real! Push Up Liner' will be available June 27th and will retail for $24.