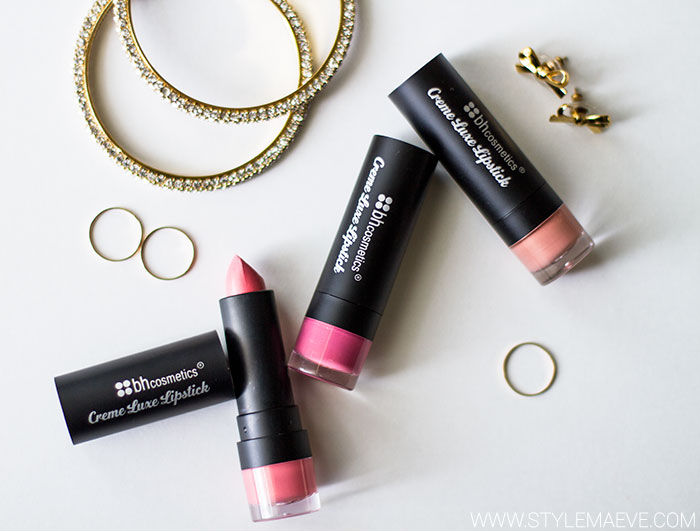 When I posted about the BH Cosmetics Brushes I got, I also mentioned that I had also received a few other items. Some of those other items included some blushes and bronzers, and these three lipsticks.
Here is some info on the lipsticks:
– Retail for $7.95 (currently on sale for $3.95)
– BH Cosmetics creme luxe lipsticks come in 14 colors
– Enriched with shea butter, beeswax, and vitamin E
The three colors I got are:
– Forever Nude– A nude shade with very tiny specs of gold to give it a shimmery, satin finish. This one was my least favorite. I felt it matched to closely to my skin color and I didn't like the gold shimmer on my lips.
– Tea Time– A rosy pink shade which also has satin finish.
– Charmed– A mauve shade with a creamy finish. This one was my favorite shade and I have been wearing this one often.
What I liked about the Lipsticks:
– They are very creamy and hydrating. My lips don't feel dry when I have the lipstick on.
– Long lasting. The color lasted through a dinner without becoming patchy or completely coming off. When the color does start to wear off, it leaves a smooth stained look on your lip so your lip color still looks nice.
– Heavily pigmented so one swipe gives your true color.
– Does not feather around the lip line.
– No odor.
– Great price!
BH Cosmetics Lipstick Swatches: