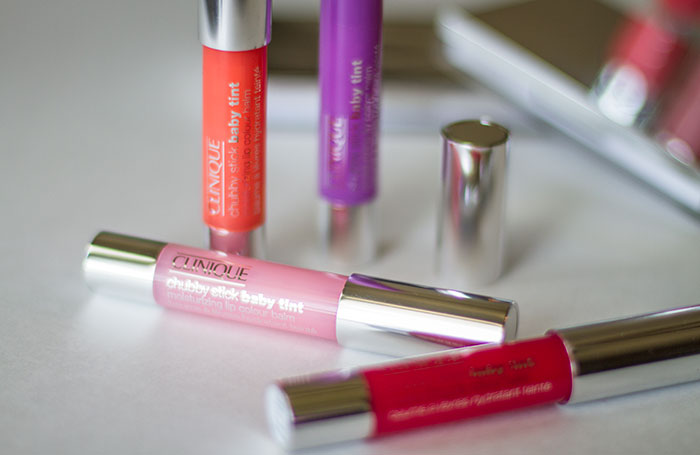 The Clinique Chubby Stick Baby Tint is the latest in their Chubby Stick line of products. The Baby Tint line come's in 4 shades: Budding Blossom, Poppin' Poppy, Coming up Rosy, and Flowering Freesia. These pretty lip colors are sheer and work with your body's chemistry to give you a natural tint… so don't be a alarmed by that purple colored one! It will give you a beautiful, natural looking, tinted sheen once applied.
One of the things I loved about these is that they leave a stain on your lips, sort of like if you just had a pop-sickle! The Baby Tint lip balms have a bit of moisture but nothing that will keep your lips super hydrated all day, and the sheen that you get when you first put it on does wear off after a while. The color stays on for much longer in the form of a stain, giving you a real natural look. If you love a muted, natural lip color, then these are for you!
So far I've been wearing mostly Poppin' Poppy,which is a nice coral-y color (more noticeable in person) and goes perfect with a summer glow… and Coming up Rosy, which just makes your lips look nice and flushed. Once Fall and Winter roll around though, I'll be putting the Flowering Freesia and Budding Blossom on rotation. I love the cooler undertone of Freesia, and Budding Blossom just makes me think of the natural flush your skin gets when out in the cold! Note: they have no scent, and are not sticky!
Here are some swatches, although keep in mind that the color will look different on different people thanks to their color adapting properties!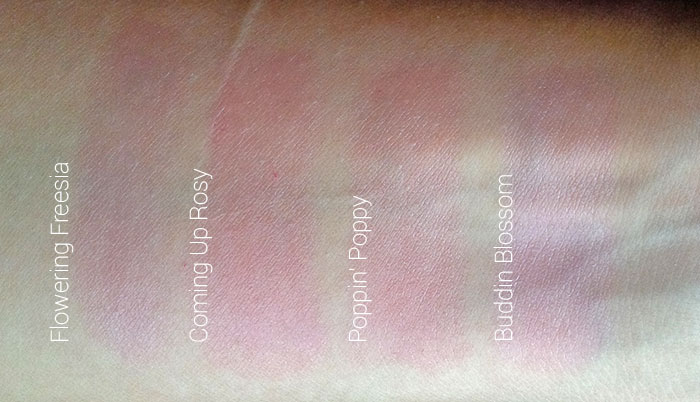 The Clinique Chubby Stick Baby Tint Lip Balm retails for $17 and can be found at Clinque.com, Nordstrom, Dillards, Sephora, and anywhere Clinque is sold!
f you are interested in the Clinique Chubby Sticks cheek color then click over to the post here.
Shop the Story: