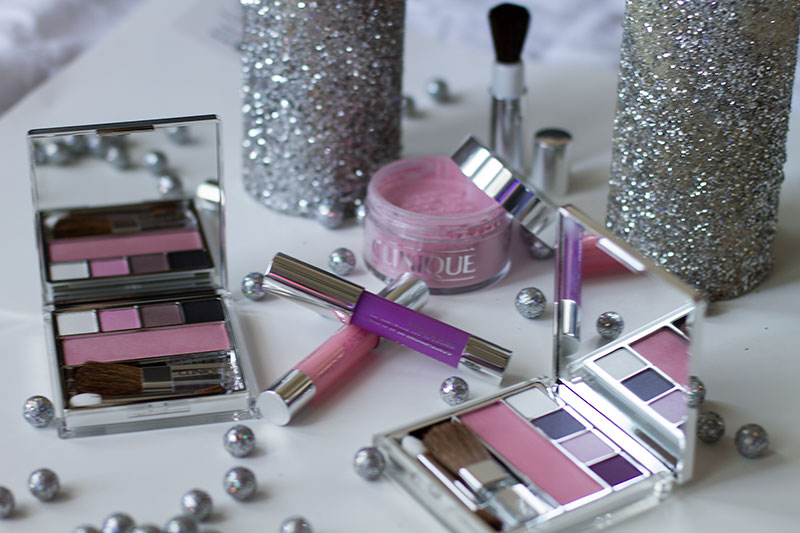 One of the things that comes to mind when I think of the holiday season, is The Nutcracker Ballet, and vice versa. The Nutcracker, first performed in 1892, is a holiday classic! So it's no wonder that for their holiday collection Clinique partnered with the American Ballet Theater to create "The Nutcracker Suite Collection". The collection was inspired by the the varying colors of pink, purple, and glittering white of the costumes, as well the beauty and grace of the performance.
The Clinique Nutcracker Holiday collection includes two "acts" – Snowflakes, and Sugarplums. Each comes with a sturdy, mirrored, compact that includes an eye shadow quad and a delicate pink blush. Each act also comes with a Chubby Stick Baby Tint Lip gloss, and a blended face powder.
– The eye shadows are just what you would expect from a "Nutcracker" collection, they are light, sparkly, and feminine. The black that's included in Act 1 isn't a heavy black… It's a lighter black with silver shimmer, so this will work great if you prefer both lighter eye makeup or a heavier smokey eye.
– The blended face powder has a pink color to it, but when applied on the skin all you see is a light sparkle. Tip: Dust a little on your chest or shoulders for those up coming holiday party's.
– The Baby Tint Lip Glosses included in the Nutcracker Holiday collection are Budding Blossom, and Flowering Freesia. You can read my review for those here.
The Clinique Nutcracker Holiday Collection will be available beginning November at clinique.com, Nordstrom, Macy's, Saks, and anywhere Clinique is sold.