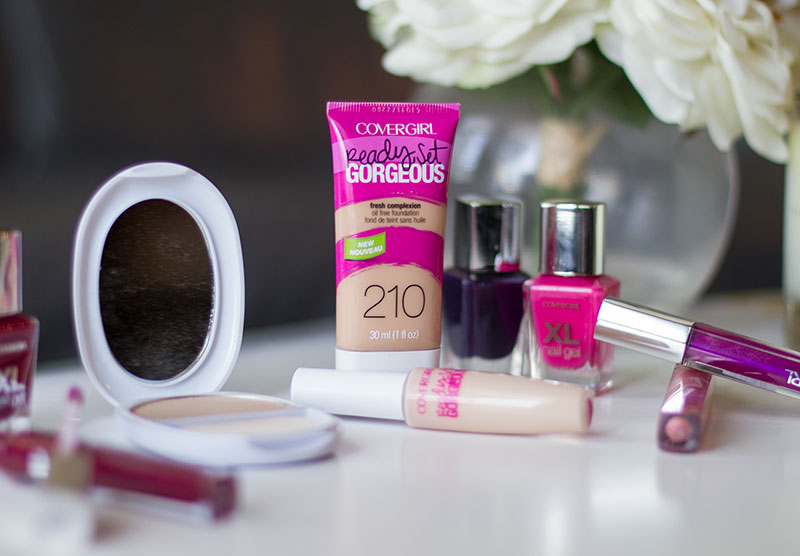 If you follow me on instagram then you probably saw that about two weeks ago I went to the Katy Perry concert in Dallas. I was actually invited by Covergirl to the concert since Katy Perry is one of their Covergirls!
The day before the show, I received a nice little package from them filled with products from the Covergirl Ready Set Gorgeous line. It that included the foundation, powder, and concealer, which I decided to test all out that next day at the concert. To be honest, I was a little hesitant in trying the foundation because I don't really experiment much when it comes to foundation. I did a little research online first just to learn a bit about the product, since it is fairly new, and then figured the concert was a perfect time to try it out.
The foundation is oil free, and leaves a nice matte finish. Lately I had been using a cc cream that leaves me with a dewy finish so it was a nice to go with a matte finish for a change. I used a flat buffing brush to apply it on my face, and it went on smoothly. The coverage is good, I would say medium to full coverage, and the color matched my skin pretty good. This foundation did a really good job keeping shine away all night and staying put… so you definitely get a matte look throughout the entire time when wearing it.
Next I applied the concealer (unlike foundation, I like trying out different concealers in search for the perfect one). The Covergirl Ready Set Gorgeous concealer was a creamy consistency, and blended evenly with a beauty blender. Once again the coverage was good without feeling too heavy or cakey.
To set the foundation and concealer, I applied a little bit of the powder with a large fluffy brush. The powder is actually a powder foundation with good coverage, and a matte finish, which is why I only applied a little bit to finish off the look. I don't have oily skin so I didn't want my face to look too dry. I also added a little highlight on my cheeks to avoid that too dry look.
I would definitely recommend the foundation if you are looking for an affordable, full coverage foundation. However, if you have dry skin, I would probably stay away as it might dry out your skin a bit more. The concealer however I think would work for most skin types, and will definitely cover up any dark under eye circles.