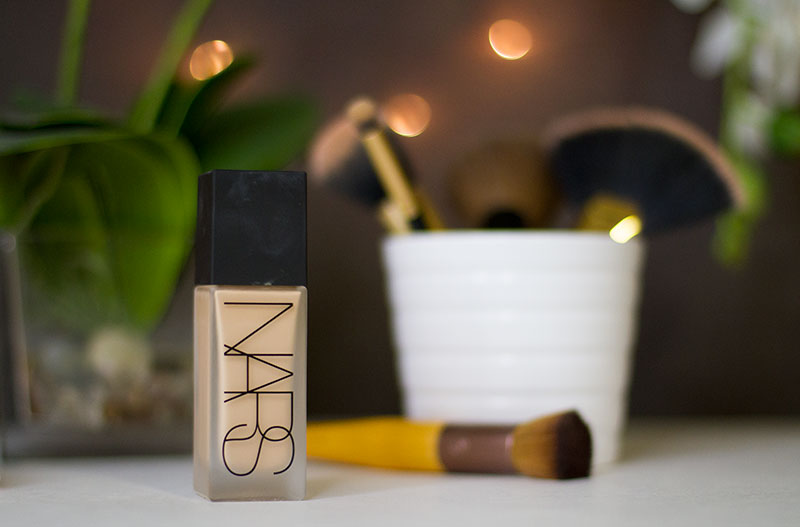 I recently ran out of my regualr foundation, the Makeup Forever HD Foundation, and needed to restock. I was going to purchase that foundation again since I really like it, but instead I decided I would try out the new Nars Luminous Weightless Foundation. I went to the Nars counter to get a match, mine is Santa Fe, and was excited to give it a try.
Let me tell you a little bit of what this foundation claims:
– Highly pigmented, naturally looking coverage
-16 hour wear
– Effortless blend-ability
– Flexibility and comfort
– One pump application
Now that I have been wearing it for the past two weeks, here is what I thought:
– Yes, it is highly pigmented. It does a good job at covering any slight redness and discolorations I have without looking heavy. The formula is very thin, and light, so it does not create to thick of a layer on your face.
– Long wearing. I don't think I have worn it for over 8 hours, but for those 8 hours it did a good job at staying put and. From the looks of it I am sure it could have lasted a couple more hours. I did use a primer and setting spray, which always helps your makeup to last a little longer.
– The formula is liquidy in consistency and goes on pretty thin once applied ,which I think this does help it blend onto the skin. Because of it's consistency, you want to make sure you blend it immediately once you apply to avoid it drying. Also, I
– Like I mentioned, it is highly pigmented and it is also matte. This could cause a foundation to feel a little thick but this one did have a lightweight feel to it. With it being matte, I just used a light finishing powder to set the foundation to avoid it getting to dry.
– The claim is that you just need one pump to cover your entire face, but I find that I use around 2 to get the coverage I want.
All in all I was pretty happy with this new foundation. It gave me the coverage I was looking for while feeling, and looking, light and natural. If you have dry skin, make sure to apply moisturizer before the foundation to prevent your skin from getting to dry.
The Nars Luminous Weightless Foundation retails for $48