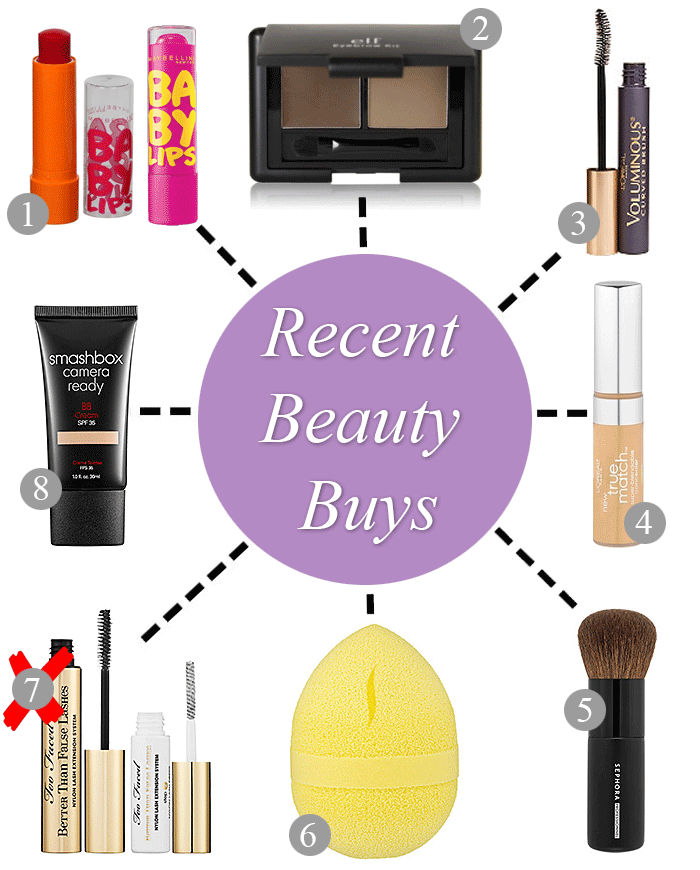 So I wanted to share with you guys a few products that I have purchased this past month, some I have not used before and some I have and bought them again because I really like the product.
1. Maybelline Baby Lips: I am always up to trying out new lip products especially the ones that are supposed to leave my lips feeling soft and hydrated. I picked up these Baby Lips lip balms, in "cherry me" and "pink punch", for about $3 each and was ready to try them as soon as I got home. I was a little surprised at how much color shows up on your lips, all you need is one swipe for a nice hint of color. They do a great job at keeping my lips moisturized and have given my other lip balms a rest. I still can't decide what color I like best!
2. E.L.F Studio Eyebrow Kit: I was originally going to buy the Benefits Cosmetics Brow Zing but when I saw the E.L.F kit at Target for just $1 I just had to try this one out first. Now, I am not completely loving this kit but for $1 I really shouldn't complain. The one thing I don't like about it is that the wax has started to clump and break away when i put the brush in, but other than that it does the job and it.
3. L'oreal Voluminous Mascara: My favorite mascara! I told myself I would not try any other mascaras because I just can't find one as good as the voluminous mascara and even though I still keep trying different ones I always keep this one stocked. This time around I went with the curved brush and loved it even more.
4. L'oreal True Match Blendable Concealer: First time trying this and honestly didn't think I would like it very much but I was pleasantly surprised. A little goes a long way.
5. Sephora Collection Classic Bronzing Blush: I absolutely love this blush for applying my bronzer.
6. Sephora Precision Sponge: I went into Sephora ready to buy the Beauty Blender, which has been getting rave reviews, but they did not have it in store so I went ahead and bought the Sephora brand sponge. I figured if I really liked it I would go ahead and spend the extra $10 and see what the difference is between the two. So far I like it much better than using a foundation brush since the brushes can leave brush stroke marks, and the sponge is obviously a better alternative to using your fingers.
7. Too Faced Better Than False Lashes Mascara: As I mentioned before, I just can't stop myself from trying out different mascaras! I was not impressed with this mascara at all. The thing about this is that it is two separate applications, one of them being just small little white fibers that are supposed to stick to your lashes so that when you apply the actual mascara it makes your lashes fuller and longer. My first problem with this is that the fibers can easily get into your eye and if you wear contacts (and even if you don't) you definitely don't want those getting into your eye. Second of all, the actual mascara formula is not very good at all, it clumped up instead of giving me fuller looking lashes. Needless to say I returned this right away! If you want a really nice fullness and length I recommend first using L'oreal Voluminous Mascara followed by a coat of L'oreal Voluminous False Fiber Lashes, then one more coat of the Voluminous Mascara.
8. Smashbox Camera Ready BB Cream: I have raved about this product before, this stuff is great and part of my go-to daily makeup.