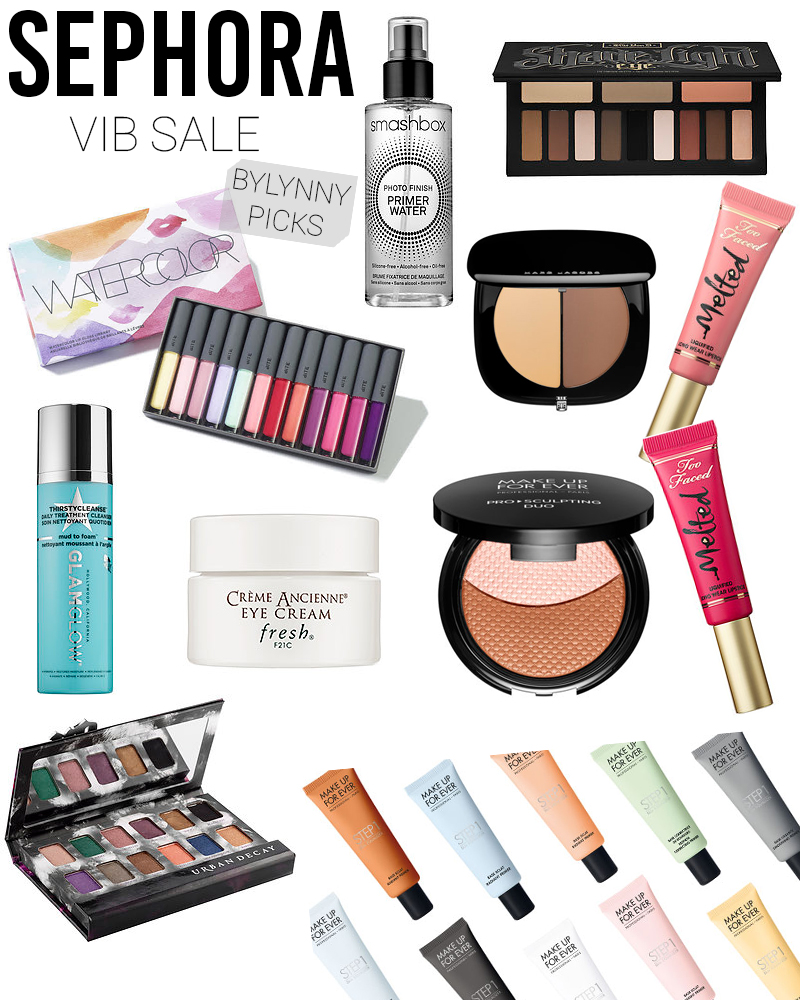 The Sephora beauty insider VIB sale started yesterday for VIB Rouge members, and starts on the 16th for VIB members, and the 17th for beauty insiders. VIB members get 15% off, and beauty insiders get 10% off until the 21st of April.
It's not very often that beauty products (especially high end products) go on sale, so If there is something you have been eyeing… now's better time than ever to pull the trigger!
Here are a few things I thought would be good to pick up during the sale. Most are products I haven't tried yet but have been wanting to due to their good reviews, or just because it's a new product I'm interested in trying. Of course, It's also the perfect time to pick up some favorites like the Make Up Forever HD Foundation.
– Bite Beauty Watercolor Lip Gloss Library: I'm a fan of Bite Beauty lip products, and this limited edition lip gloss set seems like a perfect set for spring and summer. The glosses are sheer so although the set has some not so typical colors, they should give a nice tinted color to your lips.
– Smashbox Photo Finish Primer Water: The original Smashbox Photo Finish Primer is my favorite primer so I'm interested in seeing how their primer water compares to it.
– Kat Von D Shade Light Eye Contour Palette: I'm sure you know I'm a big fan of Kat Von D products, from her liquid lipsticks, to my all time favorite tattoo liner. Just recently I purchased her Shade + Light Contour Palette, so of course I'm tempted to try out the eye palette now!
– Marc Jacobs #instamarc Light Filtering Contour Palette: There are so many contour palettes out right now with up to 6 colors in the set that it might get a little overwhelming. This palette is perfect for those that are just wanting the basics… a nice brightening powder, and a darker powder ideal for bronzing. This one is a Sephora exclusive and comes in 3 different shade sets
– Too Faced Melted Lipsticks: Liquid Lipstick are big right now, and I've heard so many great things about these! They come in quite a few colors to choose from (17 to be exact) as well as 8 metallic shades.
– Glam Glow Thirsty Cleanse Daily Hydrating Cleanser: I tried a sample of this and like all their other products I've tried from them, I loved it. See my review of the glamglow thirsty cleanse here.
– Fresh Cream Ancienne Eye Cream: As you saw from my skin care favorites, I use a lot of Fresh products. However, I don't currently use an eye cream so I'm thinking this would be a good one to try out!
– Makeup Forever Pro Sculpting Duo: This is a great duo set for highlighting the cheek bones and giving you a nice sun kissed glow. Perfect if you love the natural makeup look!
– Urban Decay Shadow Box: This shadow box has a nice range of colors, from neutrals to jewel tone colors. How gorgeous is that emerald green shadow?!
– Make Up Forever Step 1 Skin Equalizer: This primer comes in 10 different formulas so you can find the best match for your skin. So if you need to reduce shine, even skin texture, or a hydrating primer, they've got you covered.