Nude wasn't just a hit when it came to the Oscar gowns, it was also a big trend when it came to lip color. Many starlet's paired their nude colored gowns with a low key lip color and played up the eyes with a brown smokey shadow. One of my choices for best dressed of the night, Cate Blanchet, wore Georgio Armani Rouge Ecstacy in #103 Incognito, a pinkish, nude lipstick on her lips. Also wearing a nude lip with a pink undertone was Jessica Biel. She's no stranger to nude lip color and for this occasion went with CK One Color lip gloss in Quirky. Jenna Dewan-Tatum went with a peachy nude by Avon (creamy melon), which went well with her glowing skin and didn't wash her out.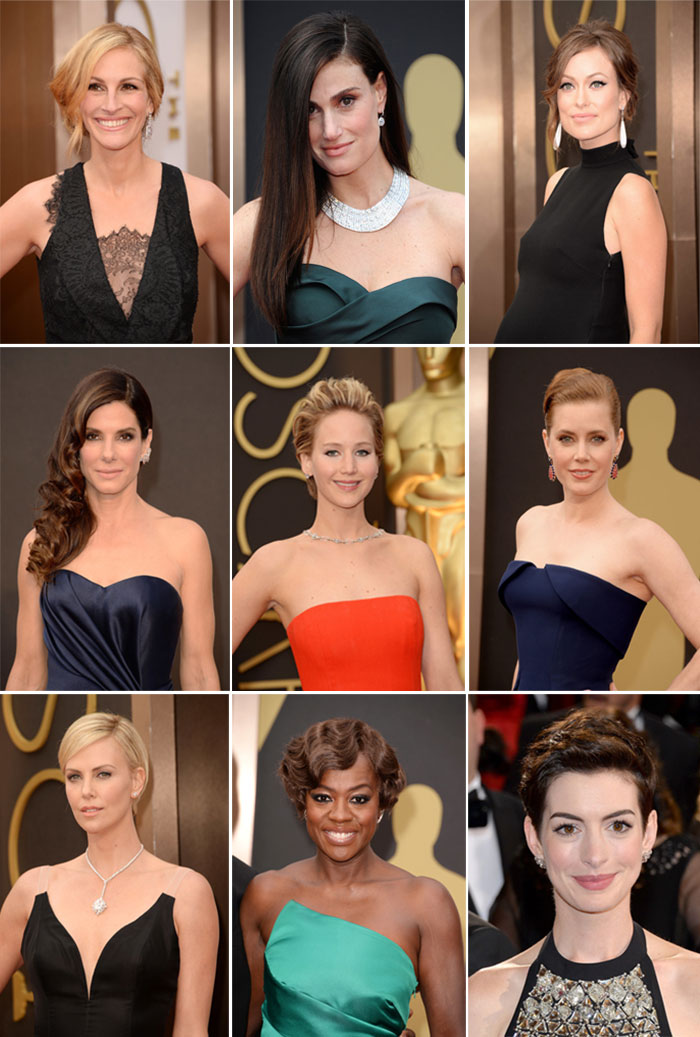 It wasn't just nude gowns being paired with nude lip colors. Many paired their classic black or jewel toned gowns with this versatile lip color. Olivia Wilde, who wore black, let her perfectly winged liner stand out by complimenting it with pale matte lipstick by Revlon in Complex. Julia Roberts, who also showed up up in black, wore Lancome Rouge in Love Lipstick in 'Delicate Lace'. Anne Hathaway went with a little more touch of color on her lips and used Chanel Rouge Allure Velvet Luminous Matte Lip Color in La Caline, but with her fair skin I thought it was perfect for her considering her makeup was kept natural.
One star who created her own shade, was Amy Adams, by mixing Laura Mercier Lip Color in Cozy, along with Tom Ford Ultra Shine Lip Gloss in Rosey Crush. Idina Menzel's makeup artist used Pixi Succulent Lip Twin in Nude Opal to give her soft, all natural color. Since we are on the topic of lip colors, we can't go without mentioning Lupita Nyong'os lip gloss, which went viral when she handed it over to the host, Ellen. It was confirmed that it was Clairens Moisture Replenishing Lip Balm.