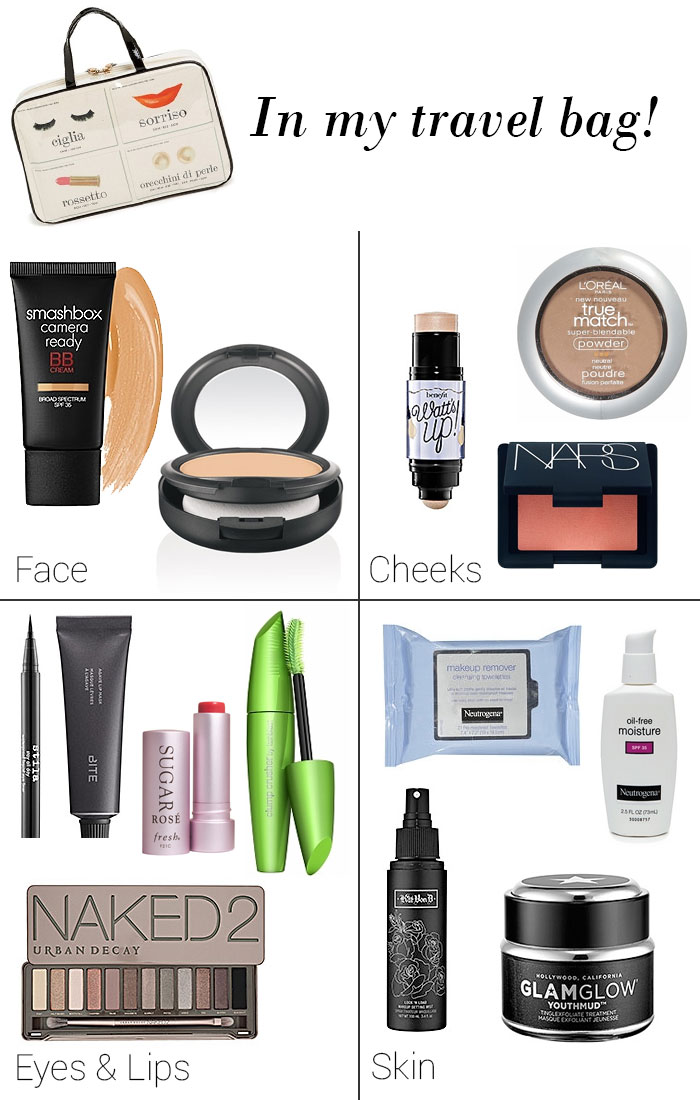 When it comes to packing up my makeup, I need to pick and choose careful to make sure I have everything I need but don't over pack. I shared with you my makeup travel bag, no here is what I packed inside it on my trip to Europe.
Face: As far as my foundation makeup goes I usually alternate between BB Cream, and Make Up Forever HD Foundation but for this trip I decided just to pack the BB Cream. It contains SPF so I won't have to worry about that while being outside all day. As for powder, I always wear MAC Studio Fix so that's a must have in my bag.
Cheeks: I packed up my favorites, Nars blush, Watts Up highlighter, and bronzer by L'oreal.
Eyes: The Urban Decay Naked Palette has all the colors I need so that makes it easy when it come to eye shadows.
Lips: I will be packing a few different lip colors but my main one will probably be the Sugar Lip Balm with SPF, and the Bite Agave Lip Mask for overnight.
Skin: Moisturizer is a must, as is makeup remover, but I've also decided to take my GlamGlow Exfoliating Mud Mask to keep up the routine I've been doing. Last, but not least, Lock n Load Setting Spray to set my makeup all day.
What are you must have beauty items when going on vacation?