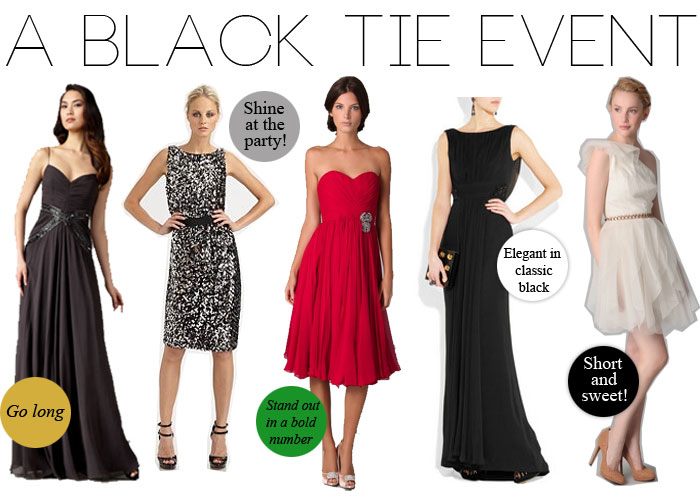 Black tie events are the most formal type of events and usually require the men to wear a tuxedo (hence black tie) and women to wear a gown. Now days, you can really get away with wearing something other than a long gown just as long as you keep it formal and classy.
Here are 5 different options of dresses that you can wear to a black tie event while still letting your personality shine through.
What to Wear to a Black Tie Event
Go Long: A black tie event is the perfect opportunity to glam it up. What better way to do it then by wearing a long gown. Remember, it's always better to be overdressed than under dressed!
Shine on: A little sparkle is always a great choice at a black tie event. A sequined dress instantly gives your look dressier feel. Just remember, if you are wearing a sequined gown keep your jewelry a little more low key. If your dress is a little more simple, dress it up with some big sparkly jewels.
Bold: Just because it is a black tie affair doesn't mean you need to be in black. Don't be afraid to wear bold colors to let you stand out in the crowd. Play around with some fun bold jewelry if you don't feel as comfortable wearing a bright bold gown.
Basic: You can never go wrong with sticking to the basics, especially when it comes to wearing a gorgeous black gown. Play around with some fun jewels and accessories or even put on some dramatic make up to up the wow factor.
Short: You can wear a short dress if you'd like, just make sure to avoid minis and keep it dressy.
Long:
Hoaglund Cross Beaded Gown
Shine:
Calulla Lillebelle Sequined Dress
Bold:
Marchesa Drapped Dress
Basic:
Notte by Marchesa Silk Chiffon Dress
Short:
Robert Rodriguez Pamela Dress