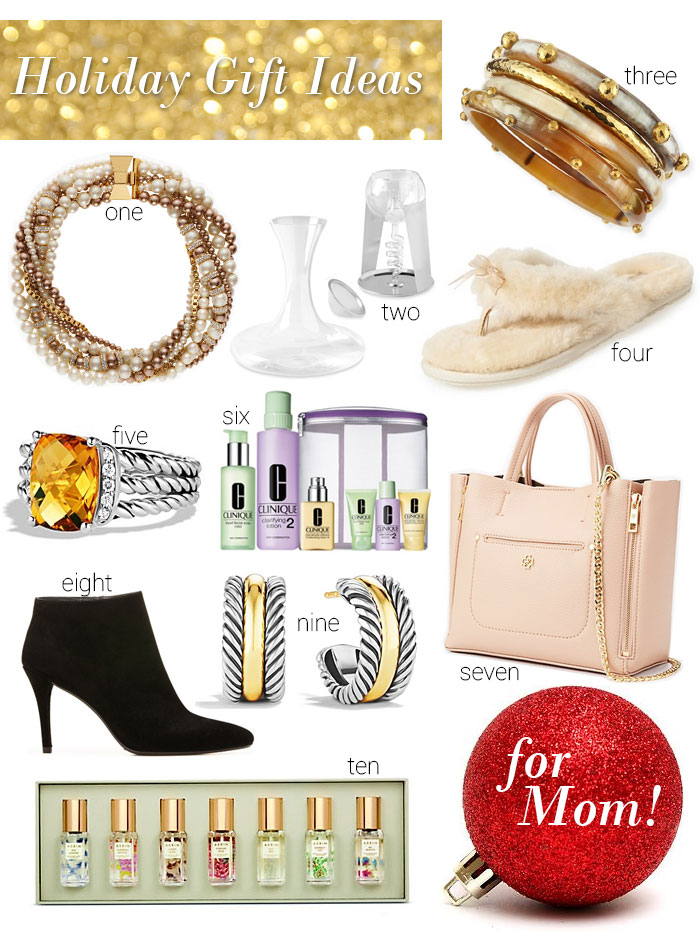 Some more holiday gift ideas… This time, for mom!
When it comes to shopping for mom, I don't think you can go wrong with a pretty set of jewels. What woman doesn't love filling her accessories drawer with new baubles? I also like the idea of getting her her favorite scent. My mom loves Chanel perfumes and has a nice little collection going. If your mom has a favorite fragrance brand, or just likes to experiment with new scents, you can always gift her a perfume set with multiple bottles for her to try like this Estee Lauder set.
Other gifts mom will love are gifts that pamper. A super soft robe, comfy slippers, or even a gift card to a day spa! If mom loves to cook, or entertain, like mine does, then new kitchen gadgets will put a smile on her face.
Here are more Christmas gift ideas for mom:
Twisted Pearl Necklace
|
Wine Aerator and Decanter
|
Horn Bangles
|
Fluffy Flip Flop
Citrine and Diamonds Ring
|
3 Step Skincare Set
|
Pink Tote
|
Suede Bootie
Cable Silver and Gold Earrings
|
Fragrance Set

* View more holiday gift ideas here, for the beauty lover, and for the hostess.