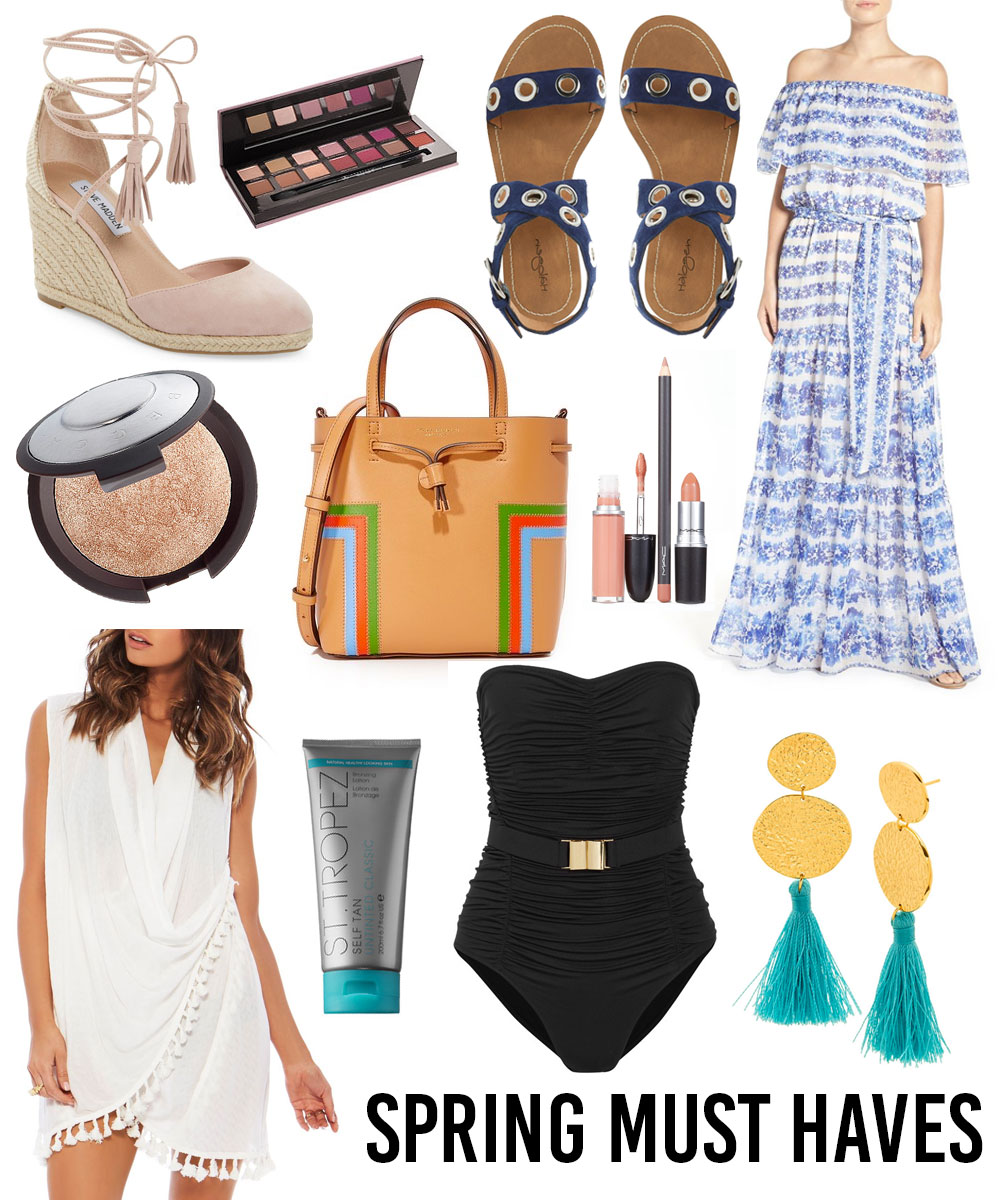 Wedges | Modern Renaissance Palette | Sandals | Maxi Dress
Highlighter | Bag | Nude Lip Set | Cover-Up | Self Tanner | Swimsuit | Earrings
Can you believe Spring is just around the corner? We've already gotten a little taste of Spring weather here in Texas. That being said, I'm ready to get my spring wardrobe started. I've rounded up a couple must have items this spring, along with a few favorites.
Spring Must Haves:
Off the Shoulder: The off the shoulder trend is not ready to go away just yet. You can find this trend in everything from tops, to dresses, to swimwear. If you like the off the shoulder style but worry about having to fuss with the top to make sure it stays put, then try a style like this. It still gives you the same effect but is also more comfortable around the shoulders.

Bohemian Florals: I've been seeing a lot of bohemian, floral tops and dresses making the rounds recently. Bohemian style tops are perfect for transition into spring. The light fabric of bohemian tops and dresses are great during the warm days. Most styles also come with longer sleeves which is nice for the evenings, since it can still get a little chilly in the spring.

Espadrilles: It's all about espadrilles when it comes to spring. With so many style options, there is something for everyone. I've been thinking if I should get the popular, Chanel espadrilles this year. I'm still not sure about it though. I don't own any espadrilles that style so I may purchase a more affordable pair first to make sure I like the style.


Beauty: As far as makeup trends go for spring, it's all about keeping your look soft and fresh. Feel free to put away the black liner! Rose gold, pink, and red eyeshadows are really on trend right now. You can dust a bit of a rose shadow on your lid for a more natural, romantic feel. Or, you can create a more glam look like I did in this tutorial. For lips – go with a nude shade with a bit of shine.