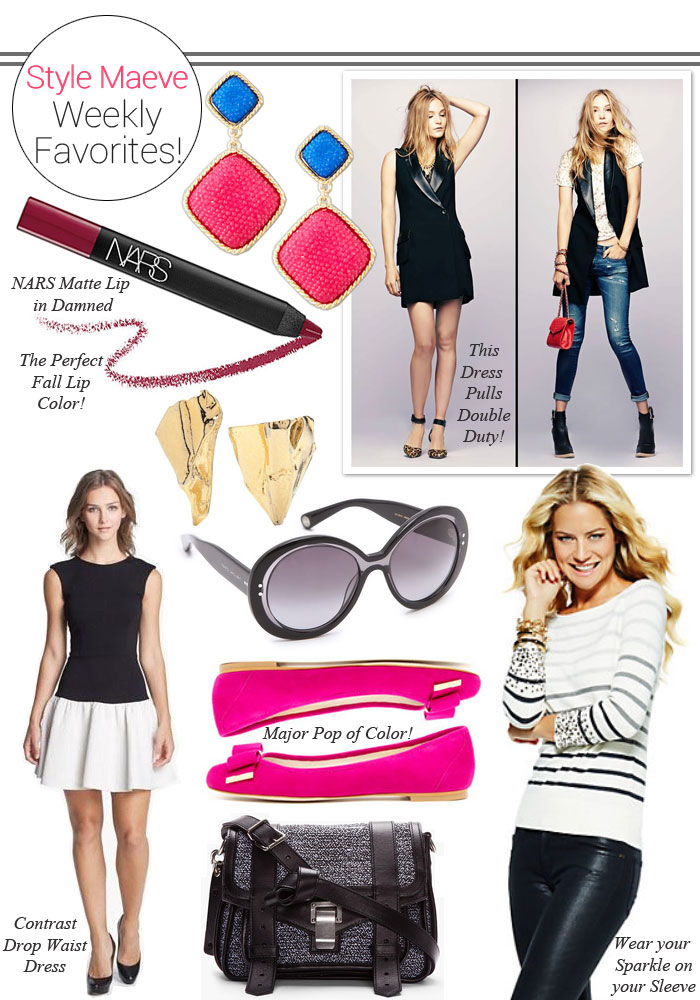 Nars Matte Lip Color | Drop Earrings | Tuxedo Jacket Dress | Gold Earrings | Round Sunglasses
Mixed Media Flare Dress | Suede Ballerina Flats | PS1 Tweed Pouch | Beaded Cuff Sweater
Some of my fashion favorites this week include these bright pink Michael Kors ballerina flats for an intense pop of color, and a more subtle but ultra chic black and white drop waist dress. Oh, and how about this tuxedo jacket dress that works as both a dress and a vest, now that's being able to dress it up or down.
More Weekly Favorites:
– My first boot of the season, these Frye 'Patty' ankle boots. They'll look great with either pants or skirt, and will I'll be able to wear them well into spring. I'll definitely be picking up another pair of Frye Boots, especially since I found that they carry wide calf knee high boots. I already have my eye on three different pairs, the Veronica, Phillip, and Melissa Harness.
– Personalized handbag and shoe covers for easy storage. I recently discovered Bagadocious during the Dallas Top Blogger event and thought it was such a cute idea. The bags are perfect for storing your handbags while still being able to identify whats in the bag! The shoe bags are also great for travel and have separate compartment for each shoe to avoid scuff marks. Here I am holding mine.
– Blog Love: If you love to stay up to date on all the latest fashion collections and celebrity style then you should check out Fashion and Fabulous. Not only does Moni, the Editor in Chic, have a fabulous fashion blog but her facebook page is just as fab with tons of fashion inspiration.