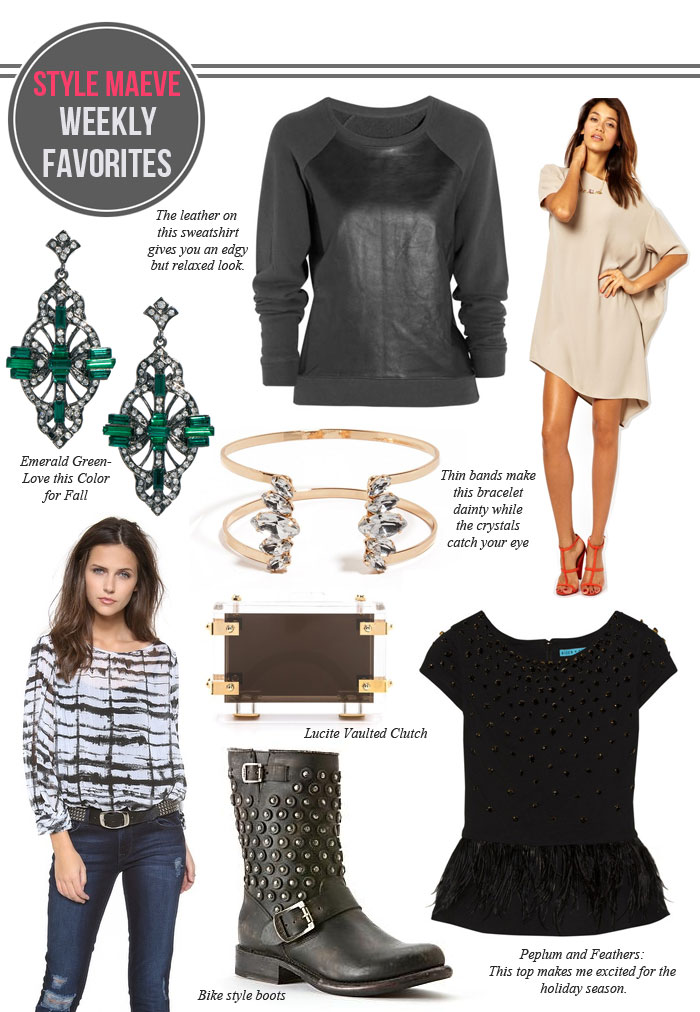 Sweatshirt style tops have been making their way into the store more now that we are getting close to fall and I have been having my eye on a few, like this black on black leather panel one, and this Joie animal print one. Fashion sweatshirts are one of my favorite things to wear during winter and fall. Well, really I love anything that is warm, cozy, and comfortable, but the plus side of these fashion sweatshirts is that I get all the comfort of a sweatshirt without looking like i'm in a regular old sweatshirt. Some other favorites this week, these studded flat motorcycle boots, and a peplum top that really makes me think about the holiday season for some reason.
Other weekly favorites:
– Labor Day Sales are going on this weekend! Some places to check out:
Shopbop, they just added more items to their sale, I really like this ruffled hem top.
Nordtrom is having a shoe clearance with 40% off shoes.
At Tory Burch take 20% off purchases of $300, 25% off purchases of $500, and 30% off purchases of $750. Ends: 9/2. Code: LABORDAY
If you are looking for jewelry, Ily Couture has necklaces at $16 when you use code Fringe16 and Bauble Bar has %25 off.
– This week I got a new pair of Ray-Bans, since the pair of aviators I had got scratched. If you like the look of aviators but are looking for one without such a "droopy"or large lens, try the 'Cockpit' style aviator from Ray-Ban, which is the style I got. Another pair I had looked at were these from asos.
– I am looking forward to seeing my family this week, and I hope everyone has a great long weekend here in the U.S.