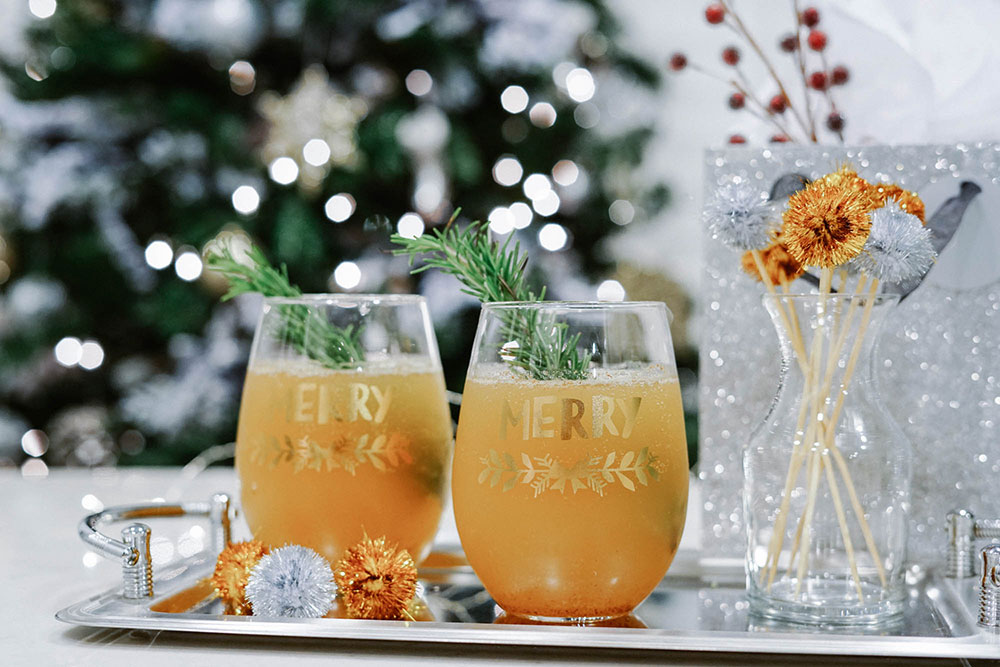 While looking for a winter cocktail to mix up this weekend, I came across this champagne paleo cocktail. It's a bit different than the champagne and whisky holiday cocktail I posted last winter. This cocktail is mixed with a bit of whiskey as well but features a cinnamon infused honey cider that gives it a wintery feel.
There are no artificial sweeteners or sugary mixes in this cocktail so you can feel a little less guilty while indulging this holiday season!
The cider consists of honey, orange juice, cinnamon, and cloves. The cider recipe serves 18, so that you can mix up a pitcher of this winter cocktail at your holiday get together. If you aren't planning on serving that many cocktails, don't worry, you can leave the excess burning on low in a saucepan. I did this and it made my home smell amazing!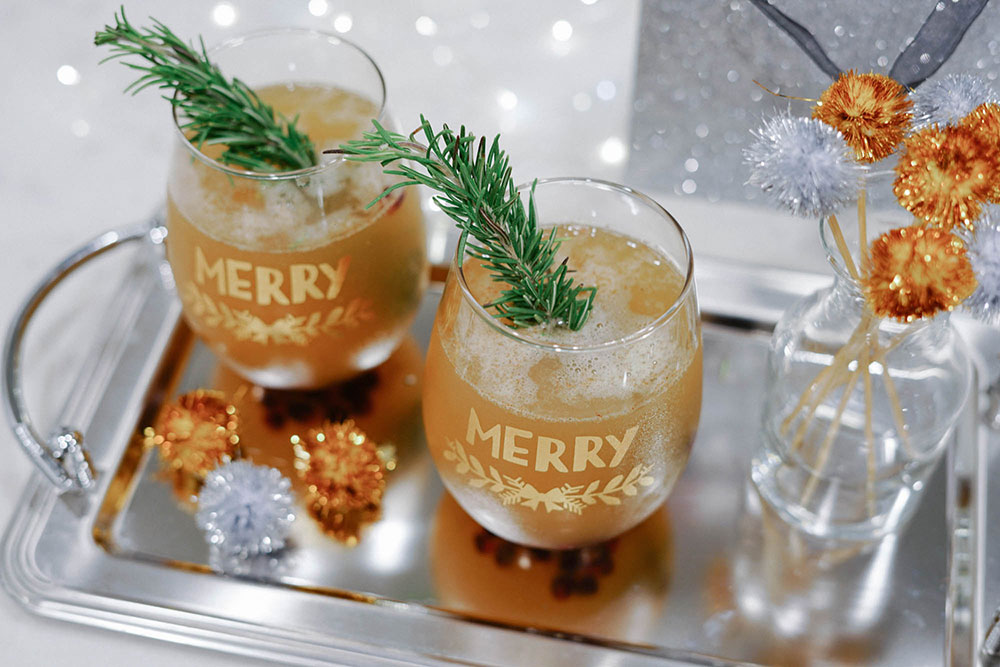 I chose to serve this in these festive, stemless, wine glasses that I picked up at Home Goods but I also recommend serving it in old fashion champagne glasses.


Ingredients:
For the cider honey syrup:
½ cup honey
¼ teaspoon ground ginger
¼ teaspoon ground cinnamon
1/8 teaspoon ground cloves
1 cup orange juice
For cocktail:
1 ounce whiskey or bourbon
1 tablespoon + 1 teaspoon cider honey syrup
prosecco, champagne, or sparkling white wine (or enough to top off the glass)
½ sprig of rosemary
pomegranate seeds
Directions:
In a small saucepan over medium heat, whisk the honey, ginger, cinnamon, cloves, and orange juice together until it bubbles. Remove from heat and let it cool for 5 minutes.
In a shaker, mix the cider honey syrup and whiskey together with a good amount of ice so that it is completely chilled. Strain into a serving glass. If making a larger batch, keep refrigerated in a pitcher until serving.
Just before serving, add sparkling wine to top off the glass and garnish with a ½ sprig of rosemary and pomegranate seeds.