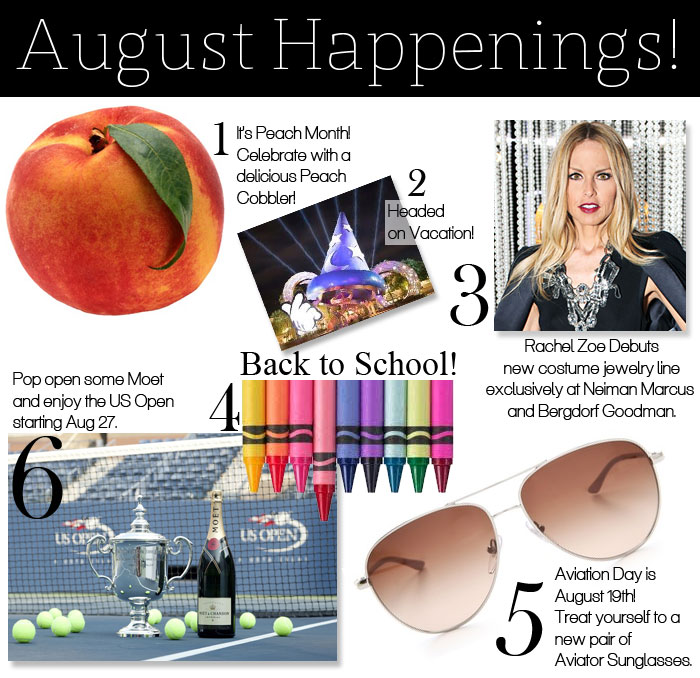 Say hello to August! The summer season just flew by, and while we still have a few weeks to enjoy the summer sun and get in those last minute vacations, before we know it the crisp autumn air will be rolling in.
1. August is Peach Month! Last week I dined at a restaurant here in Dallas that had an amazing peach cobbler as their monthly dessert special. Of course I would love to get my hands on that delicious recipe, but since I can't, this one by Bakerella will do the trick.
2. I will be heading on vacation to Orlando for five days this month. Of course there will be a lot of theme park action going on as well as some much needed lounging by the pool.
3. This month Rachel Zoe will be expanding her fashion empire with a line of costume jewelry set to launch at Neiman Marcus and Bergdorf Goodman.
4. It's that time again, Back to School. Whether you are a teacher, student, or just enjoy a good deal, you can take advantage of the back to school sales. Stores like LOFT offer discounts to teachers, and many states hold a tax free weekend which will include clothing, shoes, and accessories under $100!
5. Any excuse to do a little shopping is a good one. So treat yourself with some new aviator sunglasses on Aug 19th thanks to National Aviation Day.
6. The U.S Open kick off August 27 and it's only fitting you pop open some Moet, the sponsor of the U.S Open.