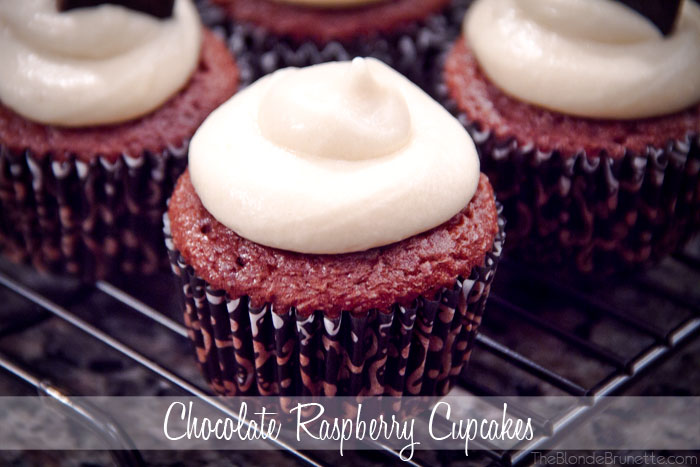 I made some delicious chocolate raspberry cupcakes the other day. I used my frosting decorating kit to fill the cupcake with the raspberry filling and then used a different tip to cover the cupcake with frosting. You can never go wrong with a chocolate cupcake when looking for a yummy treat.
Cupcake Ingredients
1 1/3 cups all-purpose flour
1/4 teaspoon baking soda
2 teaspoons baking powder
3/4 cup unsweetened cocoa powder
1/8 teaspoon salt
3 tablespoons butter, softened
1 1/2 cups white sugar
2 eggs
3/4 teaspoon vanilla extract
1 cup milk
Directions
Preheat oven to 350 degrees F (175 degrees C). Line a muffin pan with paper or foil liners. Sift together the flour, baking powder, baking soda, cocoa and salt. Set aside.
In a large bowl, cream together the butter and sugar until light and fluffy. Add the eggs one at a time, beating well with each addition, then stir in the vanilla. Add the flour mixture alternately with the milk; beat well. Fill the muffin cups 3/4 full.
Bake for 15 to 17 minutes in the preheated oven, or until a toothpick inserted into the cake comes out clean. Frost with your favorite frosting when cool.
Frosting
Classic Vanilla Buttercream Frosting (via)
Ingredients
1 cup unsalted butter (2 sticks or 1/2 pound), softened (but not melted!) Ideal texture should be like ice cream.
3-4 cups confectioners (powdered) sugar, SIFTED
1/4 teaspoon table salt
1 tablespoon vanilla extract
up to 4 tablespoons milk or heavy cream
Instructions
Beat butter for a few minutes with a mixer with the paddle attachment on medium speed. Add 3 cups of powdered sugar and turn your mixer on the lowest speed (so the sugar doesn't blow everywhere) until the sugar has been incorporated with the butter. Increase mixer speed to medium and add vanilla extract, salt, and 2 tablespoons of milk/cream and beat for 3 minutes. If your frosting needs a more stiff consistency, add remaining sugar. If your frosting needs to be thinned out, add remaining milk 1 tablespoons at a time.