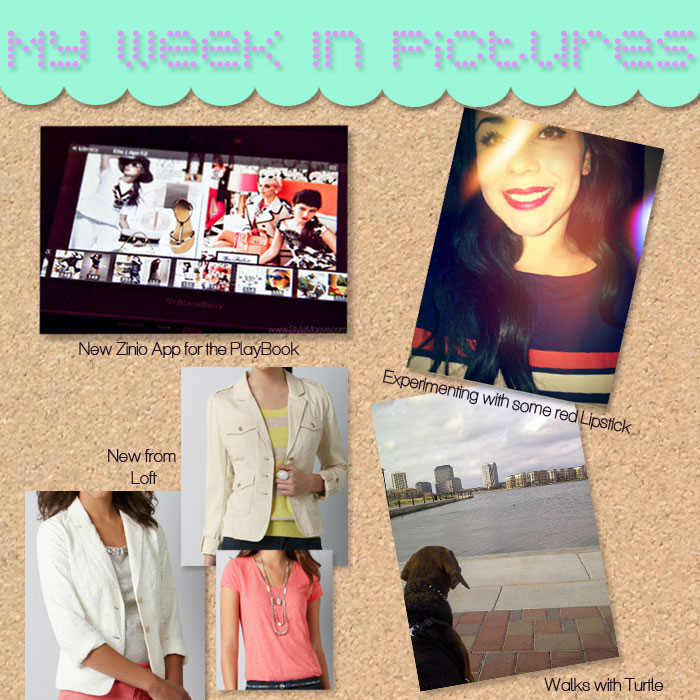 So I'm doing a new little feature on here since many readers like to get to know the person behind the blog. I'll post pictures of my week like things I've bought/worn, fun places I went to, yummy food I ate, you know all that fun stuff.
This week the new Zinio app for the PlayBook came out. If you haven't heard of it, it basically lets you download all kinds of magazines available. They gave me Elle, and Esquire for free, and also a credit for one more so I got Clean Eating Magazine. Now I just need to try and not get carried away buying magazines!
After having a discussion with a good friend of mine about red lipstick and how we thought it didn't look right with our skin color, I thought I would give it another try. I never wear red lipstick, I am more of a pink or clear gloss type of girl. I guess it just takes some getting used too.
I took advantage of Loft's $50 off your purchase of $150 or more and got this ivory eyelet blazer, and this really soft cotton jacket. I had also bought this sunwash tee earlier, really love the color (coral rose)!
Last but not least- despite a rainy week here, I was able to take Turtle out on some walks after having him hoping around on 3 legs last week because he strained his paw.
—–
Follow on me on Twitter