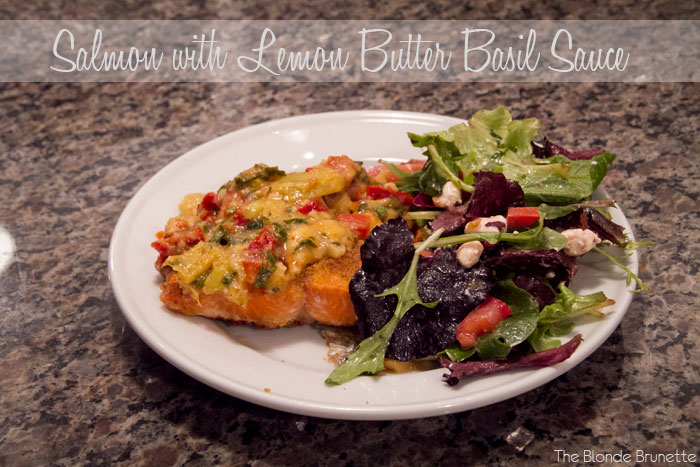 Here is an easy yet tasty recipe I found from ItalianFoodForever.com. The only thing I did was use a lot less butter, I used about 1/2 a tablespoon instead of the 1/2 a stick that it calls for. Just adjust to your taste. For a side, I made a simple mixed green salad with goat cheese, dried cranberries, candied walnuts, and Marzetti Pomegranate Dressing.
Ingredients:
4 Salmon Fillets, About 6 Oz Each
3 Tablespoons Olive Oil
3/4 Cups of Seasoned Bread Crumbs
For The Sauce:
1/2 Sticks Unsalted Butter
Juice of 1 1/2 Large Lemons
1/2 Cup Dry White Wine
4 Medium Artichokes, Cleaned, Sauteed, And Cut Into Eight Pieces
4 to 5 Sun-dried Tomatoes, Chopped
1 Large Garlic Clove, Peeled And Minced
3 Tablespoons Chopped Fresh Basil
Salt & Pepper
To Finish If Needed:
1 Tablespoon Flour
Directions:
Melt the butter in a heavy saucepan, and add the garlic, artichokes, and sun-dried tomatoes and cook 3 minutes over medium low heat.
Add the lemon juice, salt and pepper to taste, and cook over low heat until thickened.
Just before serving, stir in the fresh, chopped basil. (If your sauce does not thicken up enough, mix in the flour and whisk in just a teaspoon or so, adding more as needed.)
Preheat oven to 375 degrees F.
Brush the salmon with the 3 tbs. of oil then sprinkle on the crumbs.
Place hot oven and roast until done, but still moist inside. (cooking time depends on the thickness of your salmon fillets).
Or, grill the salmon on a hot grill until cooked.
Serve each steak topped with a scoop of the sauce.