Since my last food post showed you my "favorite burger", I will now show you my favorite pasta. I prefer to eat pastas that don't have a red sauce on them, only because it is always hit or miss with me, so I just don't take the chance unless I know it is good. This is a recipe from Barefoot Contessa, but i substituted the linguine for penne pasta, and remember you can always use whole wheat pasta to make it a little healthier.
It is really quick and easy to make, so quick I forgot to take pictures of the cooking process. That is o.k. though, the end result is what matters!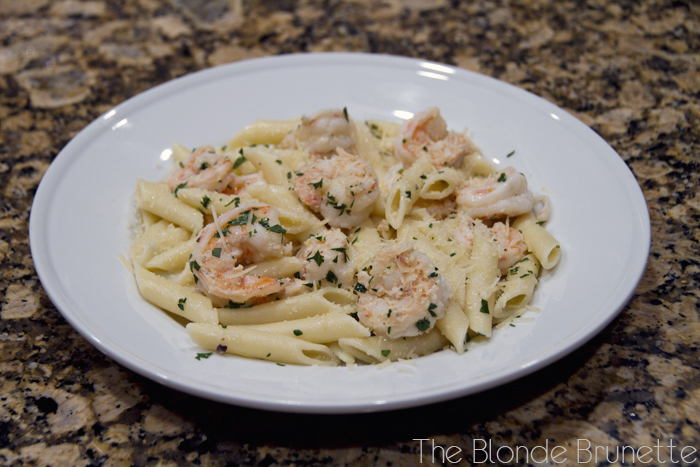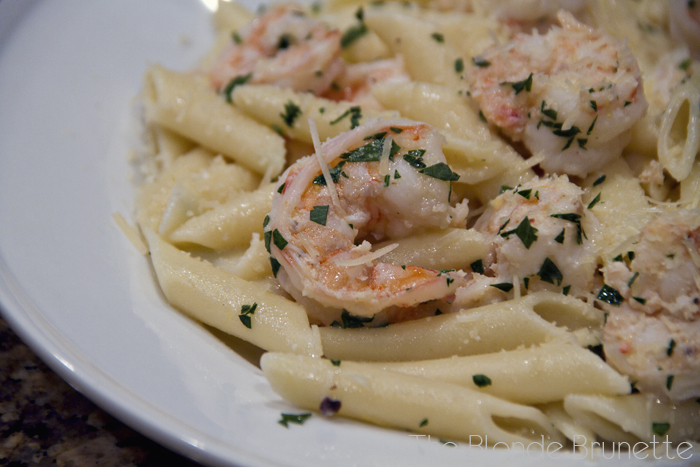 Ingredients
Vegetable oil
Kosher salt
1 1/2 pounds linguine
6 tablespoons (3/4 stick) unsalted butter
5 tablespoons good olive oil
3 tablespoons minced garlic (9 cloves)
2 pounds large shrimp (about 32 shrimp), peeled and deveined
1/2 teaspoon freshly ground black pepper
3/4 cup chopped fresh parsley
Grated zest of 1 lemon
1/2 cup freshly squeezed lemon juice (4 lemons)
1/2 lemon, thinly sliced in half-rounds
1/4 teaspoon hot red pepper flakes
Drizzle some oil in a large pot of boiling salted water, add 1 tablespoon of salt and the linguine, and cook for 7 to 10 minutes, or according to the directions on the package.
Meanwhile, in another large (12-inch), heavy-bottomed pan, melt the butter and olive oil over medium-low heat. Add the garlic. Sauté for 1 minute. Be careful, the garlic burns easily! Add the shrimp, 1 tablespoon of salt, and the pepper and sauté until the shrimp have just turned pink, about 5 minutes, stirring often. Remove from the heat, add the parsley, lemon zest, lemon juice, lemon slices, and red pepper flakes. Toss to combine.
When the pasta is done, drain the cooked linguine and then put it back in the pot. Immediately add the shrimp and sauce, toss well, and serve.