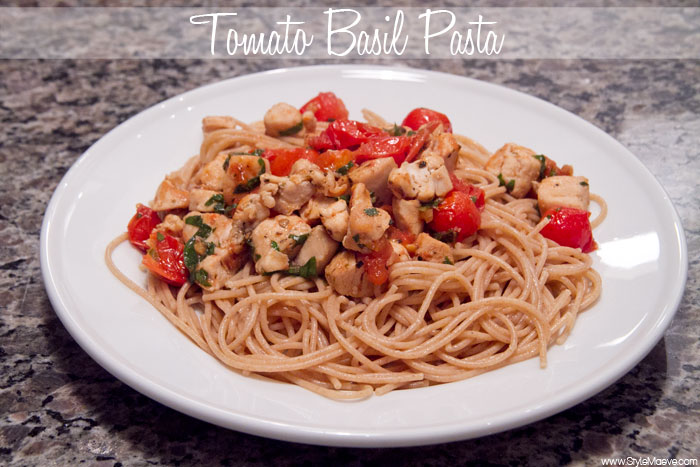 Here is a healthy low fat meal that I got from SkinnyTaste.com. It was super easy to make! You can use any kind of pasta that you like, I used whole wheat spaghetti this time but I also made this again without the pasta. It was still so good and flavorful, I love tomatoes, garlic, and basil together!
Ingredients:
2 skinless chicken breast halves, diced in 1 inch cubes
cooking spray
1/2 tsp each of dried oregano and dries basil
kosher salt and fresh pepper
8 oz spaghetti High fiber or low carb (I used whole wheat)
2 cups grape tomatoes, halved
6 cloves garlic, smashed and coarsely chopped
4 tsp extra virgin olive oil
4 tbsp chopped fresh basil
Directions:
Bring a large pot of salted water to boil.
Season chicken generously with salt, pepper, oregano and basil. Heat a large skillet on high heat. When hot, spray with oil and add chicken. Cook about 3-4 minutes, until no longer pink. Remove chicken and set aside.
Add pasta and cook according to package directions. Reserve about 1/2 cup pasta water before draining.
While pasta cooks, add olive oil to skillet on high heat. Add garlic and sauté until golden brown (do not burn). Add tomatoes, salt and pepper and reduce heat to medium-low. Sauté about 4-5 minutes. When pasta is drained, add pasta to tomatoes and toss well. If pasta seems too dry, add some of the reserved pasta water. Addfresh basil and chicken and toss well. Serve and top with good grated cheese.