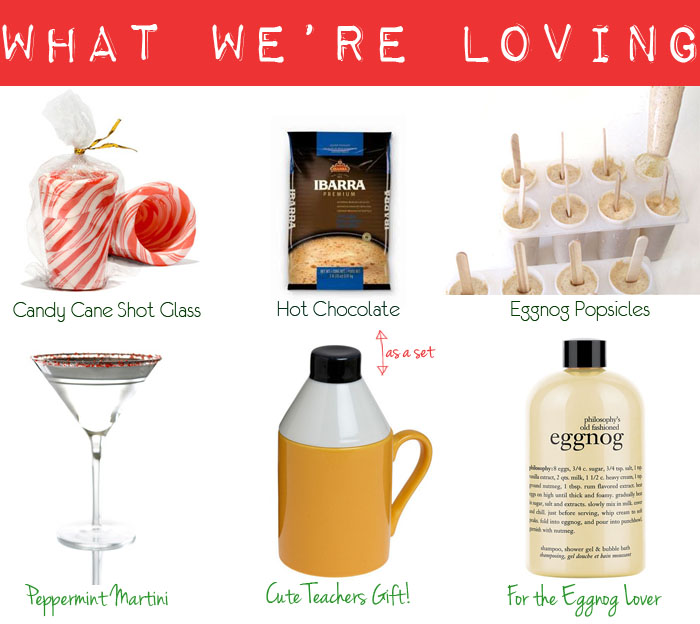 The holidays are in full force and now that the cold weather is here, it really is beginning to look a lot like Christmas. So, needless to say, we are loving anything Christmas related like these little candy cane shot glasses! They would be a super cute addition to any holiday get together along with this peppermint martini. One good thing about this cold weather, when i'm out shopping I just have to stop by Nordstrom cafe and pick up a cup of their Mexican hot chocolate. It is so good! If you haven't tried it yet, you need to. It would make a great teacher gift paired with this cute little pencil mug too. For the eggnog lovers out there, we are loving the idea of making eggnog popsicles (especially for those in warmer climates).
1. Candy Cane Shot Glasses 2. Martini Glass 3. Ibarra Premium Chocolate (available at Nordstrom)
4. Cute Composition Mug 5. Eggnog Popsicles 6. Philosophy Eggnog Bodywash
Peppermint Martini:
Ingredients
5 ounces high quality vodka
2 ounces of white crème de menthe
1/2 ounce of peppermint schnapps
Mini candy canes
Instructions
1. Pour ingredients into a shaker filled with ice. Shake vigorously.
2. Strain into a chilled martini glass and garnish each with a candy cane.
Eggnog Popsicles:
½ pound cream cheese
1 ½ teaspoons lemon juice
1 ½ teaspoons cinnamon
1 ½ teaspoons nutmeg
1 cup sugar
pinch of kosher salt
2 tablespoons brandy
2 tablespoons bourbon
2 cups heavy cream whipped until just stiff
Instructions:
Beat the cream cheese in a standing mixer or with a whisk until completely smooth. Thoroughly stir in all of the remaining ingredients except for the whipped cream. Fold the whipped cream into the cream cheese mixture. Fill popsicle molds with the mixture and allow to set and freeze for at least two hours (if you don't have popsicle molds, you can use paper cups and popsicle sticks). The texture will be semifreddo-ish.
Recipe via