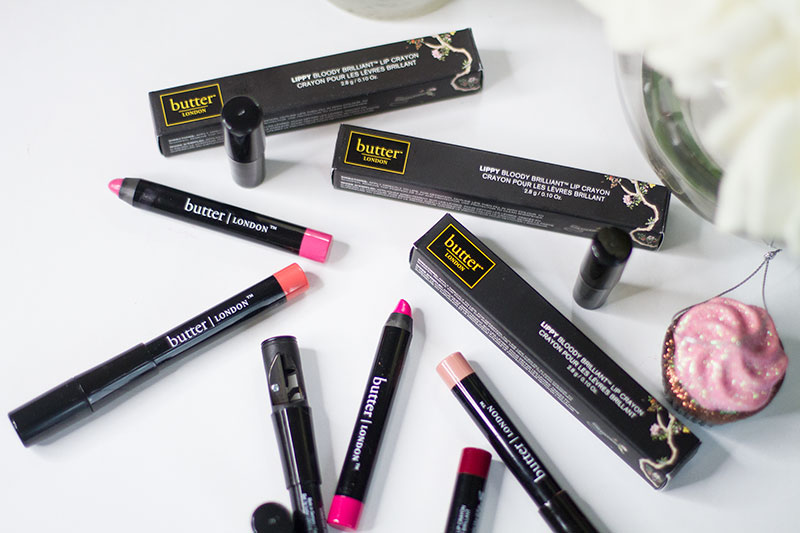 Butter London, which is known for their nail lacquers, is extending their line to include cosmetics like these new lip crayons. These Butter London Lip Crayons come in 7 different colors (I have 6 pictured here).
First of all, I want to talk about the packaging. One of the cool things about the Butter London lip crayons is that they come with their own built-in sharpener in the cap. The cap has two sections so if you need to do a little sharpening- pull off the top half of the cap to reveal the sharpener. If you don't need to do any sharpening then you can just pull off the cap completely and apply the color.
The lip crayons have a bit of a minty smell to them when they go on your lips, which I think helps give you a moisturized feel. This leads me to the feel of the product… True to the name, it goes on buttery and smooth. My lips never felt dry while I had on any of the lip colors and even once it started to fade they felt moisturized.
These are listed as long lasting lip color and while the shine doesn't stay on as long as the color does, it does last a few hours. As it fades it leaves a nice, even, stain on your lips which I like.
One tip I do have is to be careful to not push too hard when applying because like I said, the formula is soft and buttery so if you push to hard you might break off the end and have to sharpen it.
Below are some swatches, but also make sure to watch my video at the end of this post for live swatches on my lips!