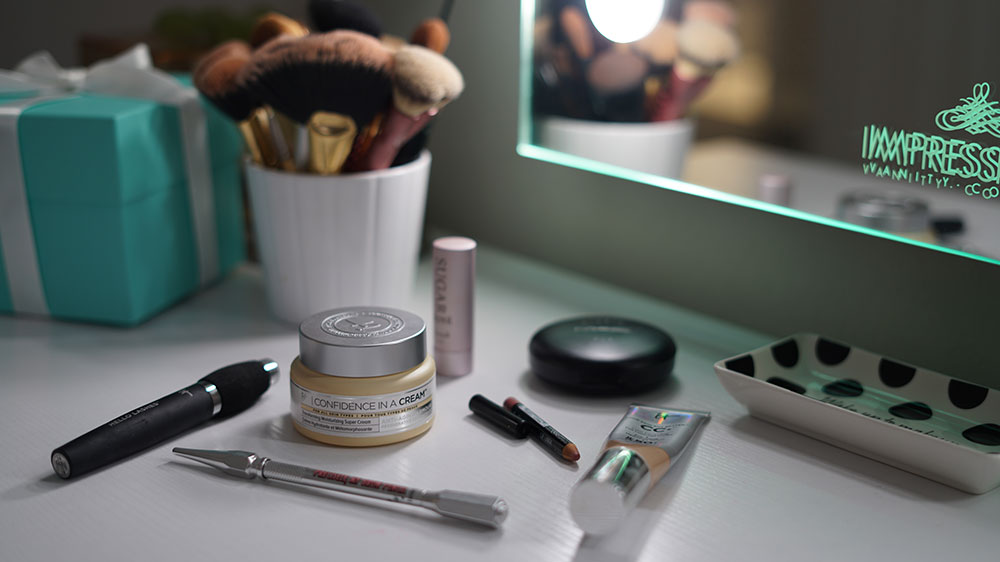 Usually when I take a trip I end up booking an early flight so I can take advantage of the whole day. That means, waking up before the suns out! To save time, and get a little more sleep time, I keep my makeup look pretty minimal. I apply only the necessities and skip they eye makeup. I put on just what I need to not look as though I just rolled out of bed and got dressed.
Once I get to my destination that's when I get a little more dolled up. If I am not heading to my hotel right away, I stop at the restroom to freshen up my look. This is where I'll apply a bit of eye shadow if I feel I need it. Many times, I'll just do it at my seat on the plane just before it lands. I also like to carry makeup wipes in my bag. Depending on the length of the flight, I will just redo my makeup for a completely fresh look.
Here is what I used for my early morning flights:
Moisturizer: Before applying any makeup on my face, I apply my moisturizer. I use the IT Cosmetics Confidence in a Cream. If you have dry skin then I recommend this moisturizer 100%. I use it at night before bed and once again in the mornings after I wash my face. Just a small amount is all I need and it doesn't leave my skin feeling greasy. Moisturizing your skin before a flight is a must! Especially on long flights. As we all know, traveling can dry out your skin so you want to be one step ahead and apply a moisturizer before your flight.
CC Cream: Although I don't want to wear a heavy foundation during a flight, I still want some coverage to even out my skin. That's why I always reach for my IT Cosmetics CC+ Cream. It's light while still concealing any redness and uneven skin tone. It also looks good after a few hours of wear so I don't really have to redo my makeup until later on in the afternoon.
Powder: To set my CC Cream in place I use the MAC Studio Fix Powder. I apply it with a large, fluffy brush so that it doesn't go on too heavy. Just a light dusting is enough to set the cc cream.
Bronzer/Blush: Just to add some color to my face, I brush on a bit of bronzer. To keep things simple, I like to use a bronzer-blush combo like the Sweetie Pie Bronzer by Too Faced or the Nars Blush/Bronzer duo.
Brows: There's no getting away from this one for me! I do my brows just as I would any other day. I use the Benefit Precisely, My Brow.
Mascara: I like to do just a quick swipe of mascara on my lashes. Once i'm at my destination I'll throw on a couple more coats for a fuller look. I like the It Cosmetics Hello Lashes Mascara. I have found that this one doesn't dry up and flake as much as some other mascaras I have tried.
Setting Spray: Last but not least, I have to have my setting spray. I use the Urban Decay All nighter setting spray and it really does keep my makeup set for hours and hours! I would also recommend the Urban Decay Chill Cooling and Hydrating Makeup Spray. This is a good one if you tend to get dry during flights and you can also spritz some on again once you land.
Lips: On my lips, I make sure to apply something that wont dry them out. I use one of the many shades of the Fresh Tinted Lip Treatment. It keeps my lips moisturized but also adds a bit of color to them while still looking natural. I also keep the Bite Beauty Agave Lip Mask in my purse incase I need a little more moisture.