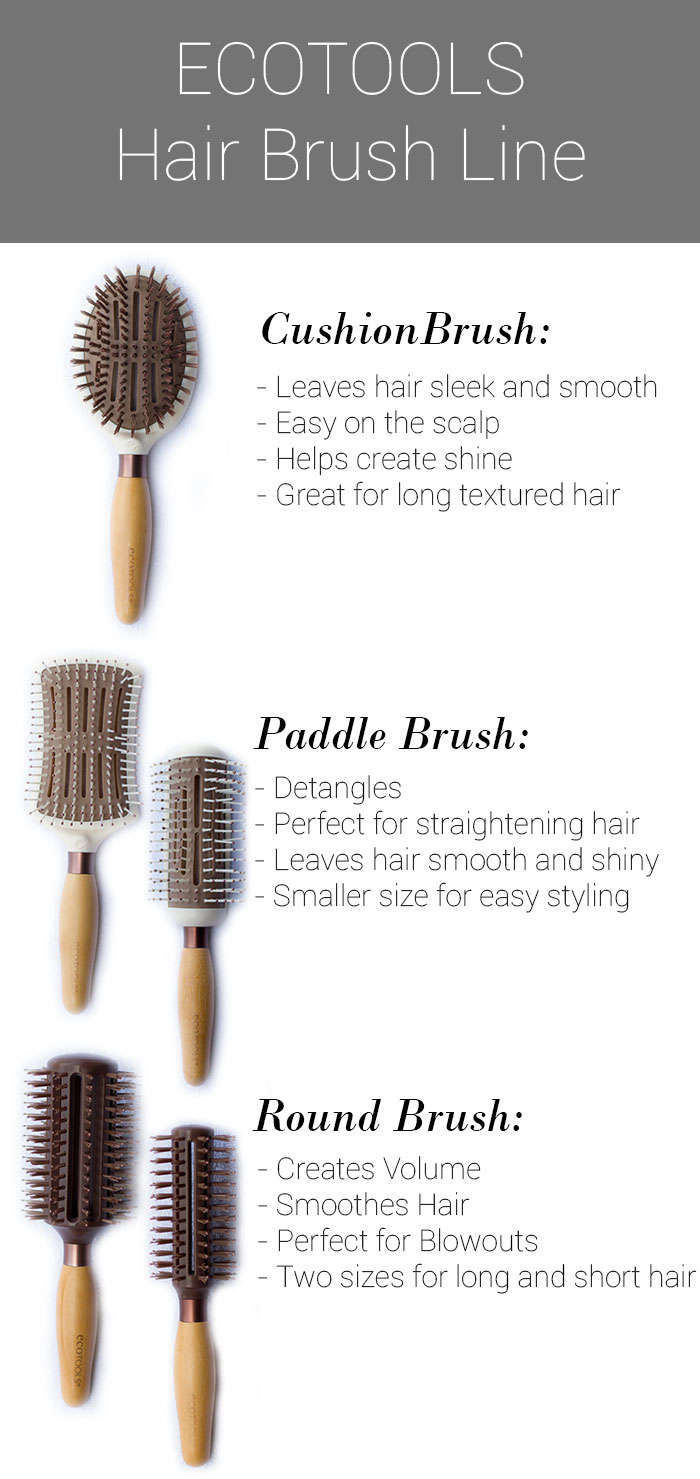 You have probably heard about EcoTools before through their line of eco-conscious makeup brushes. Now they have come out with a line of equally eco-friendly hair brushes. I've had he chance to try out the line so let me tell you a little bit more about it.
EcoTools is made out of soft and 100% cruelty free (which I love) products, and the handles are made out of bamboo. This is true for both their makeup brushes and hairbrushes, so no matter the product you decide to use you know it's made with the same great materials.
Their brush line includes 5 different brushes. They all include a vent system which helps the hair dry faster as well as prevent it from overheating. Each brush has a different purpose, so if you have ever wondered why your hairstyle isn't quite coming out the way – you may me using the wrong brush.
Cushion Brush: The cushion brush leaves your hair sleek and smooth. The soft cushion design is easy on the scalp and helps spread out the natural oils in your hair, which is why it leaves your hair shiny and smooth. The bristles on this particular cushion brush are great for medium to long hair, but can also be used to add fullness.
Paddle Brush: This brush comes in two different sizes. The larger one for long, thick hair, and the smaller for shorter hair. The paddle brush is ideal when straightening hair, or for de-tangling wet hair. I have long hair that has texture to it, so using this brush when straightening my hair made it easy to keep it straight and smooth with its large paddle. If you are wanting a sleek hairstyle, this is the brush to use!
Round Brush: This one also comes in two sizes. The smaller one is really great for bangs, or shorter pieces of hair. The larger brush is perfect for blowouts and can be used to create volume, and great for curling the ends of the hair. This brush had a lot of grip on my hair which was good because it kept it pulled tight for a smooth finish, but if your scalp is more sensitive, or if you have thinner hair, it might be too much of a grip and you could feel as though your hair is being pulled.
Now, it's time for a giveaway! I am giving away the full set of hair brushes so that you can try them out for yourself, as well as a giftcard to Walmart where the EcoTools line is sold. Just enter below for your chance to win.
*This is a sponsored post but all opinions are my own.