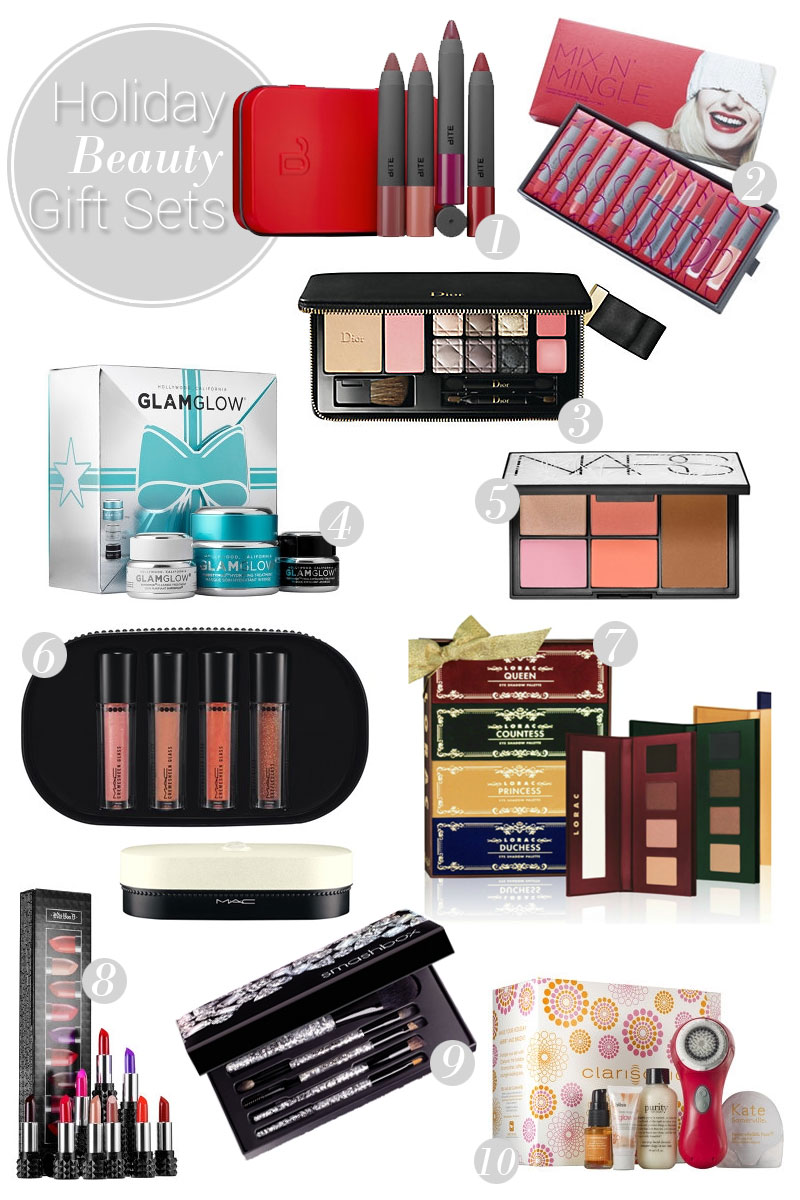 1.
Bite Best Remix
2.
Bite Beauty Mix n Mingle
3.
Dior Holiday Deluxe Palette
4.
Glam Glow Gift Sexy
5.
NARS Virtual Domination Cheek Palette
6.
MAC Objects of Affection Gloss Set
7.
Lorac The Royal Shadow Collection
8.
Kat Von D Studded Lipstick Set
9.
Smashbox on the Rocks Brush Set
10.
Clarisonic Pure Glow Gift Set
There are already so many great holiday beauty gift sets out that it's hard not to get started on your holiday shopping list. Not to mention snag some of these up for yourself!
– I'm a sucker when it comes to MAC's special edition palettes and I especially love it when it comes in pretty, sparkly, cases. Anything from their Keepsakes, or Objects of Affection, collections would make a great little gift.
– As of now, I only have two Bite Beauty lip products but let me tell you.. I'm a big fan! So when I saw these two lip sets I just couldn't decide on one or the other. The Mix n Mingle box comes with an incredible 15 different lip colors, and 3 different styles, while the smaller, Best of Bite, box comes with 4 of their most popular shades.
– When it comes to skin care, you know Glam Glow products are my #1, and would definitely recommend them to anyone. That's why I thought this gift box with 3 of their best masks would make a lovely gift for anyone looking to try it out.
– If you are shopping for yourself, the holiday season is the perfect time to try out some products, or brands, that you have had your eye on. With all those really great sets, and palettes out there, you can find one with a little bit of everything; like this Dior palette that has eye shadows, lip color, and blush, all in one.