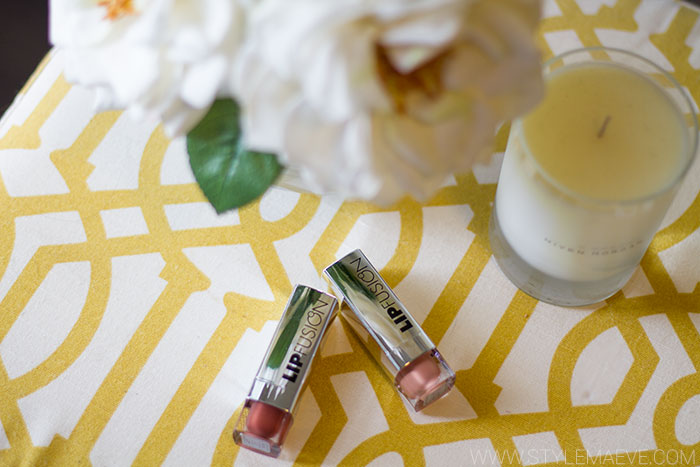 I got these two Lip Fusion lipsticks in a beauty giveaway I won last month and thought it would be a good item to do a review on since they are not just regular ol' lipsticks, but lip plumping lipsticks. Now lets be honest, for as many lip products out there that claim to give you a nice full pout, with no surgery needed, many of them usually fail to do the job. According to the Fusion Beauty website- the Lip Fusion Plump + Shine Lipstick is made with innovative plumping technology like to increase lip volume, while other unique ingredients like green coffee oil help smooth out lips and reduce the appearance of lines. Ok, so what is this innovative technology they are talking about? The lipsticks contain microscopic lipid spheres, which is basically tiny, tiny, fat soluble vitamins, or waxes, that give a boost to the lipids that are naturally found in your lips. You can see more ingredients here.
Alright, so lets get down to it! Here's are my thoughts on the Lip Fusion Plump + Shine Lipstick:
Pros:
– Smells good . They both had a sort of citrus-y smell to them
– Goes on smooth without feathering
– Kept my lips feeling hydrated
– Very little tingle for a lip plumper. Felt more like a cooling sensation
Cons:
I didn't notice any plumping in my lips
High price point ($29)
So while the lipstick formula itself was nice I felt it didn't do the job it claimed to do, which is make your lips look plumper. It could have something to do with the tingle factor being pretty weak, so if you don't like lip plumpers that hurt your lips with their strong tingling sensation then maybe this is for you. If you want a lip plumper that will give you noticeably plumper lips, then you will want to pass on this one.
Products pictured: Lip Fushion Plump + Shine Lipstick in Pillow Talk, and Silk Stocking