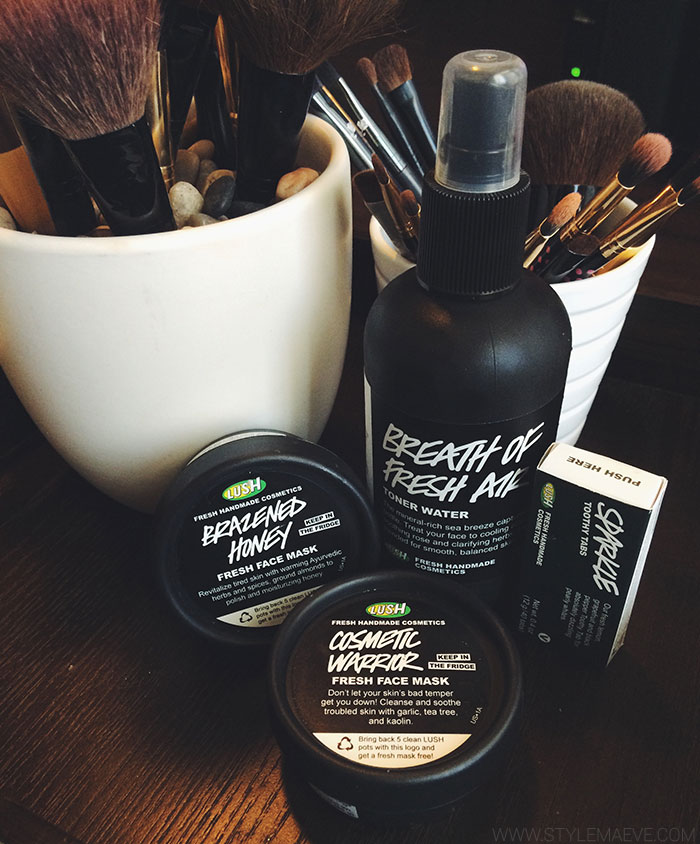 This weekend I decided to give Lush Cosmetics a try. Yup, I have never tried them before and actually passed by that counter in the mall as quickly as possible because their scents were so strong. Last week, I started reading up a little bit about them and reading reviews on their products and, after seeing all the good reviews, I decided to stop by their store this weekend and give them a shot. Now, the main reason I decided to give them a try is because in some of the reviews I read about how peoples skin, who had been having break outs, really improved. For the past month and a half my skin has been really out of wack, mostly just around my jaw area but certainly enough to bother me. I had mentioned that I had ran out of my Glamglow Youthmud for a few weeks and hadn't really been exfoliating all that well, and I may have also gone to bed a few nights without removing my makeup (which I have been trying to be so good about doing) – so that may have had something to do with the breakout. Whatever the reason was, I needed to get it under control!
One of the Items I picked up was the Cosmetic Warrior face mask. The ingredients in Cosmetic Warrior include green grapes, eggs, and honey. The key ingredient in this mask though, is garlic! Garlic has antibacterial properties and also works as an antiseptic – which is perfect for acne prone skin.
The other mask that I picked up is the Brazened Honey mask. Ingredients in the Brazened Honey include lime juice, sage, fennel, eggs, almond oil, ginger root, and a whole bunch of other plants that do your skin good. I choose this one to go along with the Cosmetic Warrior since it is an exfoliator, so it will help get rid of those dead skin cells that can also clog up your pores and create break outs.
The third item I got was the Breath of Fresh Air toner. I have used toners on and off and always like how my skin feels when I use them so figured it would be a good addition to my other two products. They have a couple different toners to choose from but I went with the Breath of Fresh Air since it is supposed to sooth skin, and I'm thinking those blemished areas of my skin need some soothing. Ingredients include sea water, aloe vera, and rosemary oil.
I would also like to point out that while researching Lush Cosmetics, I learned that they are completely cruelty free and have been against animal testing for 30 years. They also support a number of different charities – this month it's helping save sharks with their fin free movement.
Have you tried Lush Cosmetics before? What is your favorite product of theirs?