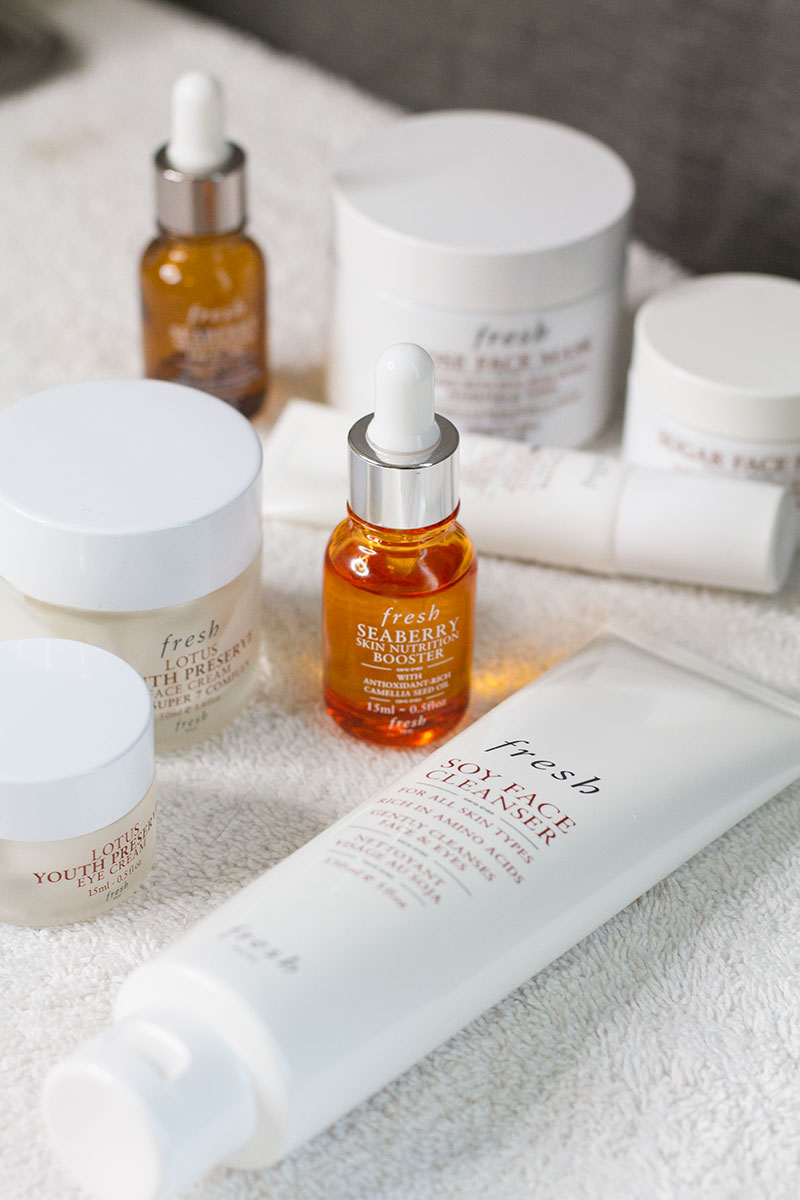 It's no secret that Fresh Beauty has become one of my favorite skin care brands. In my skin care favorites post I talked about how most of the skin care products I was using happened to be by Fresh, and how I was liking sticking to the same brand for my skin care needs.
I've added a couple new products from the Fresh Beauty skin care line to my routine, some of which I love, and some of which I can do without.
Soy Face Cleanser: This is the one I'm most happy about adding to my routine. I had been using a Neutrogena cleanser that I wasn't really loving. It wasn't terrible, but one of the things I didn't like about it was the mintyness of it. Anyway, once I finished using that one up, I got the Soy Face Cleanser. One of the things I love about it is that it easily removes make up! I usually take my makeup off with a makeup remover wipe, and then use a cleanser to make it easier, but with this one it isn't really necessary because it cleanse so good (it even removes mascara and eyeliner perfectly). Aside from removing makeup and leaving my face squeaky clean, it doesn't leave my face feeling like it had all the moisture sucked out it. Which can often happen with soaps or other cleansers. A little goes a long way with it too, so I have to remind myself to not squeeze out too much from the tube every time I use it!
Lotus Youth Preserve Face Cream: I had been using the Black Tea Firming Cream as my daily moisturizer which I was very happy with. I started using it during the winter when my skin was incredibly dry so the thickness of the firming cream definitely helped! With it being summer, and very hot out, going with a lighter moisturizer was the obvious move. So far, the Lotus Youth Preserve Cream has been working just fine for my skin and I use the Black Tea Firming Cream about once or twice a week.
Lotus Youth Preserve Eye Cream: I wasn't using an eye cream last time I talked about my skin routine (actually I've never used an eye cream) so this was a much needed addition to my routine. Obviously I can't say much as far as its claims in minimizing signs of aging but as far as it providing 24 hour moisture… I believe it does. I have also found that my under eye area doesn't get patchy when I have makeup on like it would sometimes.
Seaberry Skin Nutrition Booster: To be honest, I'm not too sure this product is necessary. You mix it in with your face cream for a boost of antioxidants. I already use the Seaberry face oil so adding another seems a bit much for me. I didn't notice any immediate difference in my skin after using this, but I also started using the face cream at the same time so I can't really compare. I will continue to use it though and see if I see any differences.