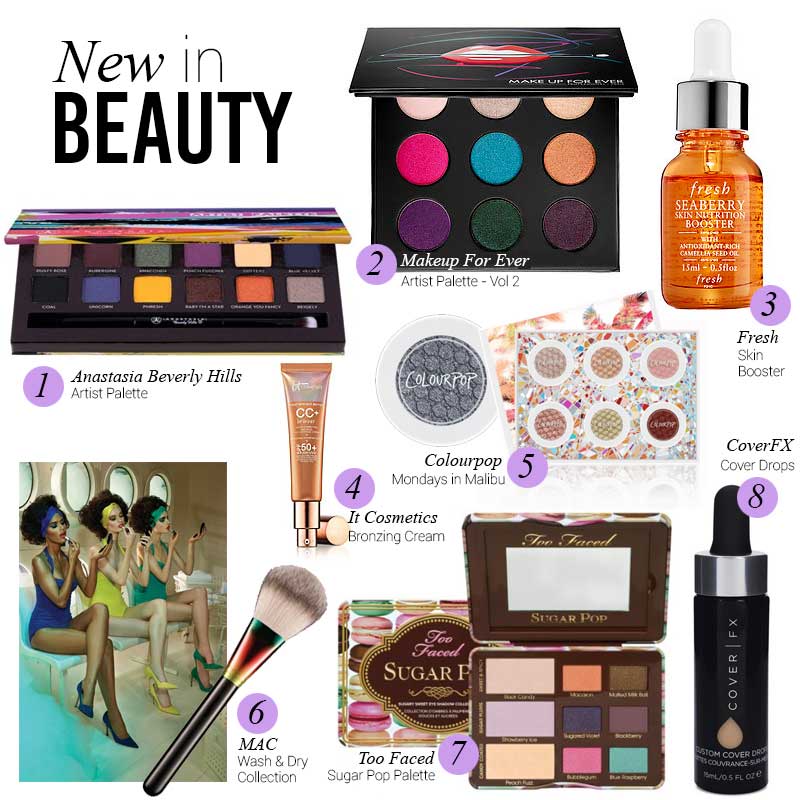 1. Anastasia Beverly Hills Artist Palette – One of the many eye palettes I have been eyeing lately! I have yet to try any eye shadows by Anastasia Beverly Hills and this one has a nice combo of bright and dark colors. This one is definitely at the top of my future purchases list!
2. Makeup For Ever Artist Palette Vol 2 – This has a gorgeous set of colors like that middle blue color, the orange one next to it, and the dark green one on the bottom row! You also get some nice shimmery neutrals on the top row.
3. Fresh Skin Booster Oil – It's no secret I love my Fresh face products so when I saw this new antioxidant face oil, I was intrigued. You can add it daily to your face or eye cream for an added boost of protection from free radicals.
4. It Cosmetics Bronzing Cream – Another brand I use daily is It Cosmetics, especially the CC+ cream. They just released this CC+ bronzing cream which seems perfect for summer time to get that healthy sun kissed glow. I think this would come in handy on those days where you just want to go for a natural look but still cover up imperfections. Of course, it also has SPF to protect your skin from the hot summer sun!
5. ColourPop Cosmetics Mondays in Malibu – I just recently tried my first ColourPop eyeshadows but they were all matte finishes. This set has 6 shadows with a shimmery finish for a summer glow straight from Malibu.
6. MAC Wash & Dry Collection – Another collection all about that summer glow. This collection includes lipsticks, shadows, liners, face powders, brushes and more. It's hard to pick just one!
7. Too Faced Sugar Pop Palette – Another palette that was at the top of my list to purchase was this one. I just loved the violet, teal, and orange shades.
8 Cover FX Cover Drops – I have been hearing so much about these drops. You mix them into any foundation, tinted moisturizer, or skincare product to create your preferred level of coverage every time.