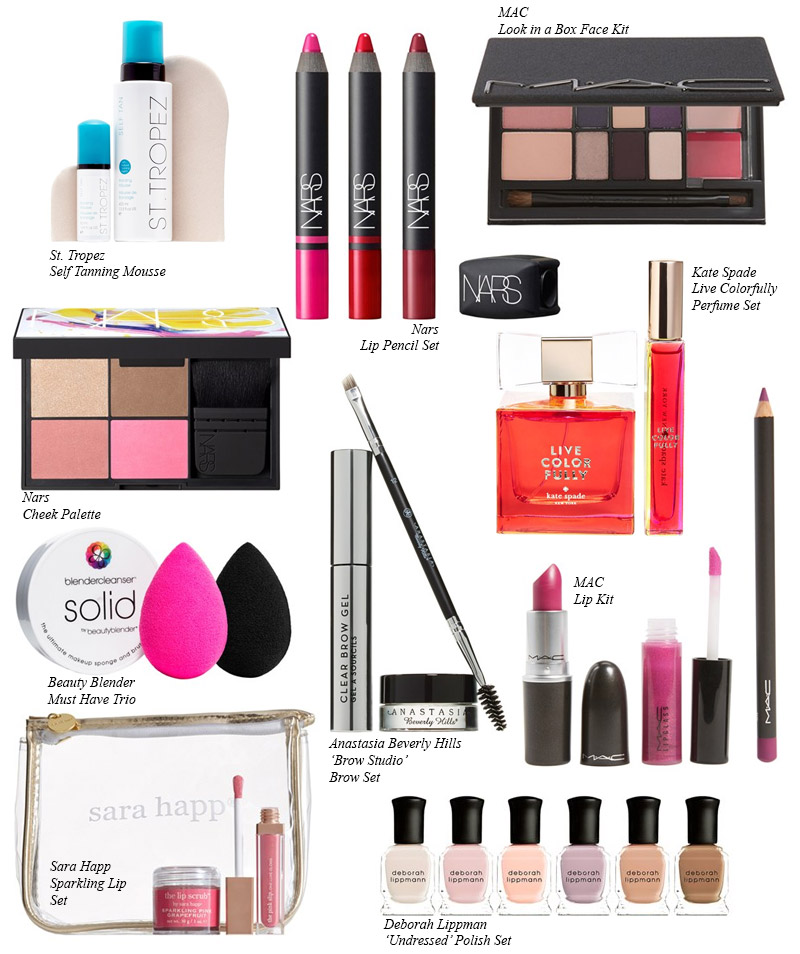 With the Nordstrom Anniversary Sale going on right now, I thought I would share some best in beauty deals that they have going on.
– This St. Tropez self tanning set is a good deal at $49. If you haven't tried this brand before, you should. It's one of the best out there for self tanning, and even comes with a glove to ensure an even and smooth application.
– There was a few MAC deals on their sale, which I love since MAC will always be a favorite of mine. I like picking up their sets especially when all the items in the set are ones you will definitely use often, like this 'Look in a Box' set for just $50. They also have a nice deal on a basic brush kit (Mac brushes last a long time so it's worth it for sure!)
– A girl can never get enough when it comes to lip color and this Nars Lip Crayon set has the perfect assortment you can use all year round. There is also this set with lighter colors.
– It's always nice to have a small roller ball of your favorite perfume to keep in your bag, or for when traveling. Right now this set of the Kate Spade Live Colorfully perfume is on sale for $75 (reg $95).
– Nars blushes are great, the pigmentation is always nice and they're pretty long lasting. I like this kit that comes with two blush shades, a bronzer, and a highlighter. It's everything you need for your cheeks!
– This is a super good deal on beauty blenders! They retail for $20 each, and $16 for the cleaner, so at $37 you can't pass this up.
– If your brows need a little love then Anastasia Beverly Hills is where you want to turn to. The Brow Studio Set is the perfect set to start with.
– Another MAC item worth picking up is this pretty pink lip set. You get the lipstick, a gloss, and a liner!
– I love my Sara Happ lip scrub (my lip routine), and this set comes with a lip gloss and a little bag to store them in.
– Lastly, for you nail polish lovers out there… A selection of neutral shades by Deborrah Lipmann for a clean and sophisticated nail.