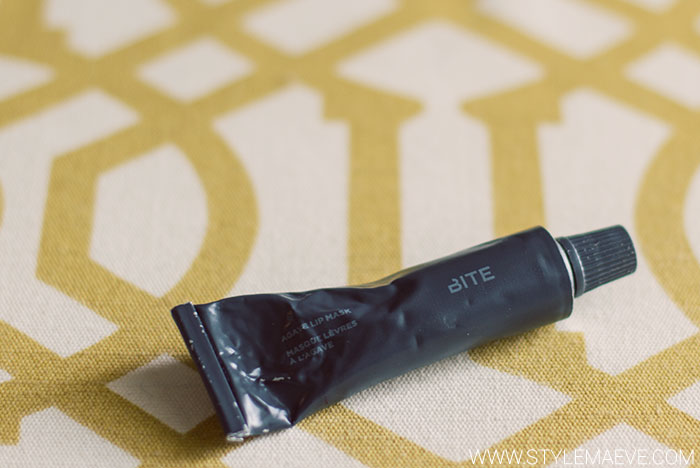 As you may know, I suffer from dry lips pretty much every day and night- I wake up with super dry chapped lips, and often they often get cuts on them from being so dry (especially this winter). I'm always looking for new lip products to keep my lips as hydrated as possible, and while I have found some that have done a pretty good job during the day (like Fresh Sugar Lip Treatment), I still hadn't found anything that would really work all throughout the night. A few weeks ago while searching for some new lip products, I discovered BITE's Agave Lip Mask and thought I would give it a shot.
Well.. let me just tell you, I am glad I did! This product has completely transformed my dry, cracked lips. The difference was noticeable after the first night of application. The lip mask stayed on my lips the whole night, and I awoke to soft and very smooth lips. Now that I have been using this for almost a month, I have even noticed that my lips are fuller than before- a major plus! The mask is pretty thick so I just wipe it off in the morning with a soft tissue and then exfoliate with a Sara Happ lip scrub.
The price might be a little steep at $26 but I highly recommend it, especially if you deal with dry lips. If you usually have to deal with chapped lips, it's a great way to just keep your lips looking smooth and youthful. You only use a little so it will last you a while too.
Here's a little more info on the BITE Agave Lip Mask:
– It comes in a metal tube that you squeeze to get the product out. Many people think the tube is a little too hard, and have trouble getting the product out, but I didn't think it was that bad. You really only just need a little bit so there is no need to be squeezing the tube too much to get it out. Like I said, I have only been using it for about a month so I don't know how the tube will feel once the product starts to run out.
– The lip mask is pretty thick, so you will definitely feel like you have some thing on. But like I mentioned before, it stays put throughout the night. If you decide to wear it during the day, it will just look like you have a clear gloss on.
– It has a light vanilla flavor/scent to it.
– Bite Agave Lip Mask is available at Sephora for $26