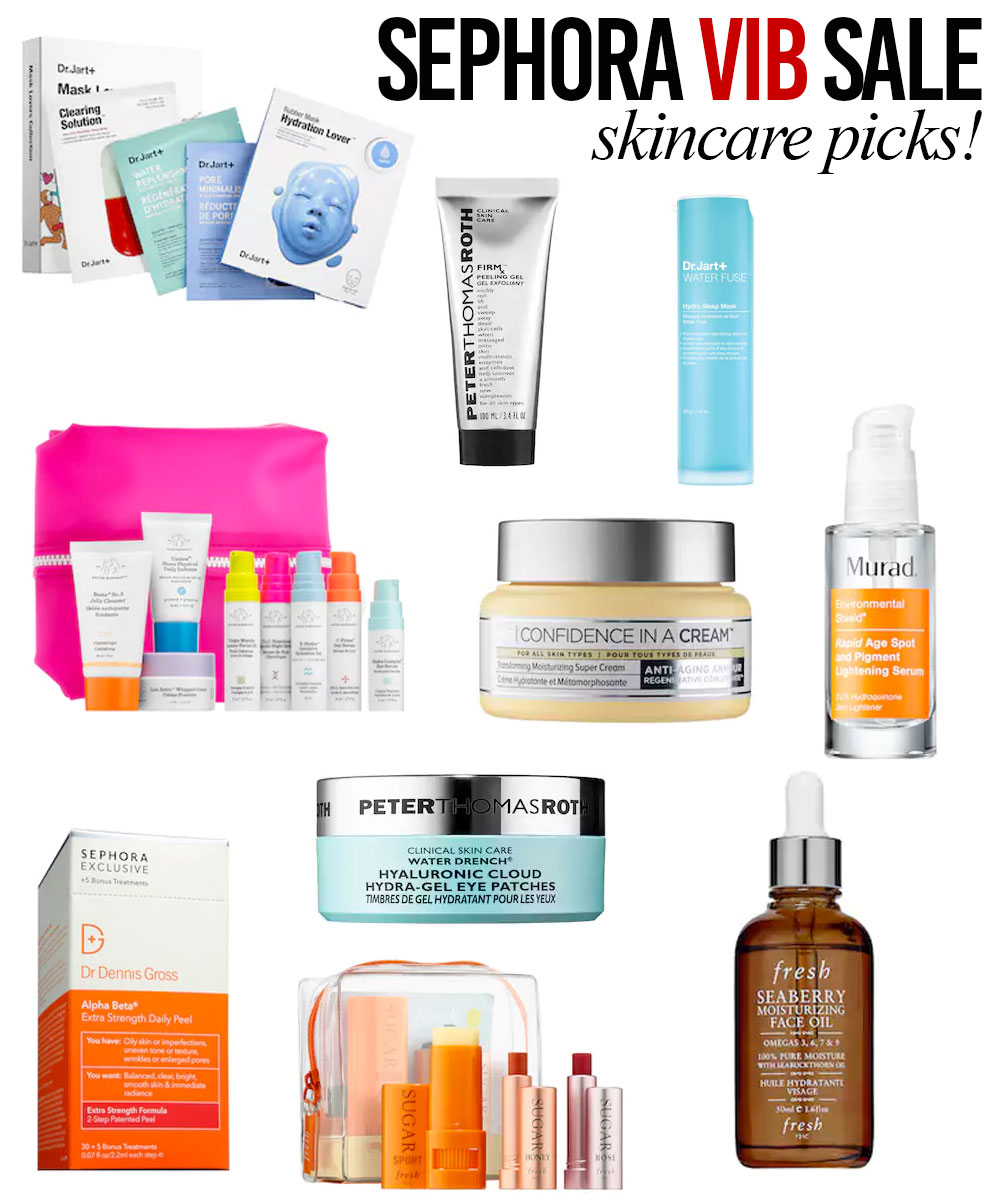 The Sephora VIB sale is coming up any day now! April 13-16th to be exact, for Rouge members, and April 20-23rd for VIB members. Rouge and VIB members get 15% off, which is a big deal as it's not often beauty products go on sale.
I've already got quite a few things in mind that I will be purchasing but I thought I would start off by sharing some skin care products that I think are worth buying. Some I've purchased before and a few others are products I've heard good things about and want to try.
New Purchases:
Murad Rapid Age Spot and Pigment Lightening Serum: This product came recommended by my sister who started using it on some blemish spots recently. She said that within a few days of using this product she noticed the spots had lightened up! I have some sun spots on my cheeks that I have been wanting to lighten up. I've tried concealer and color correctors but they just don't seem to do trick. I am hoping this product help lighten up the area!
Peter Thomas Roth Hydra-Gel Patches: I saw YouTuber What Would Lizzy Do? rave about these eye patches and I was interested in trying them out. She gave a quick review on the different patches available, including their 24k Pure Luxury ones, but I decided to try out the Hydra Gel patches. Not only is the price point a little better, but I am looking for something to hydrate and de-puff the under eye area.
Face Masks: If you love a good face mask then now is the time to stock up! I would recommend this Dr. Jart Mask Lovers Collection. You get 4 of their most popular masks which include their hydrating mask, clearing mask, replenishment mask, and a pore minimizing mask.
Drunk Elephant: If you haven't tried Drunk Elephant, than I recommend you give it a try! I recently tried my first Drunk Elephant product and was super impressed. More on that below. Sephora has an 8 piece set of littles all designed for glowing, healthy skin. If you are unsure where to start with this brand, than this is the place start.
Re-Purchasing:
Drunk Elephant Multivitamin Eye Cream: I had pretty much given up using under eye cream… and then I tried this. This has been the only eye cream where I have actually noticed a difference! My under eye are is much more hydrated throughout the day, it's pretty incredible. I also feel like the area is a little less puffy than it was. I highly recommend this product if you are looking to give your under eye are a little (or a lot) hydration.
Dr. Dennis Gross Daily Peel: I am sure you have seen me mention these before. I started using these about a year and a half or so ago and really do like them. I definitely notice a difference in my skin when I go some time without using them. When I use the peel regularly I find my skin is a bit more smoother, softer, and cleaner.
IT Cosmetics Confidence in a Cream: My go-to moisturizer! I haven't use another since first trying this one. If you have dry skin, than this is a must try. I promise, it will make a huge difference.
Fresh Beauty Sugar Lips: I have about 6 or 7of the Fresh Beauty Sugar Lip Balms in different shades and use them all the time. I actually just ran out of the Rose, which is my favorite of them all. I love that they are sheer color and offer SPF as well. They are also very moisturizing which is always a plus in my book!
Fresh Seaberry Face Oil: Another one of my favorite Fresh products is the Seaberry Face Oil. I use this every night before my moisturizer. Using around 3 drops a night makes the bottle last almost a year. That's not a bad deal if you think about it.