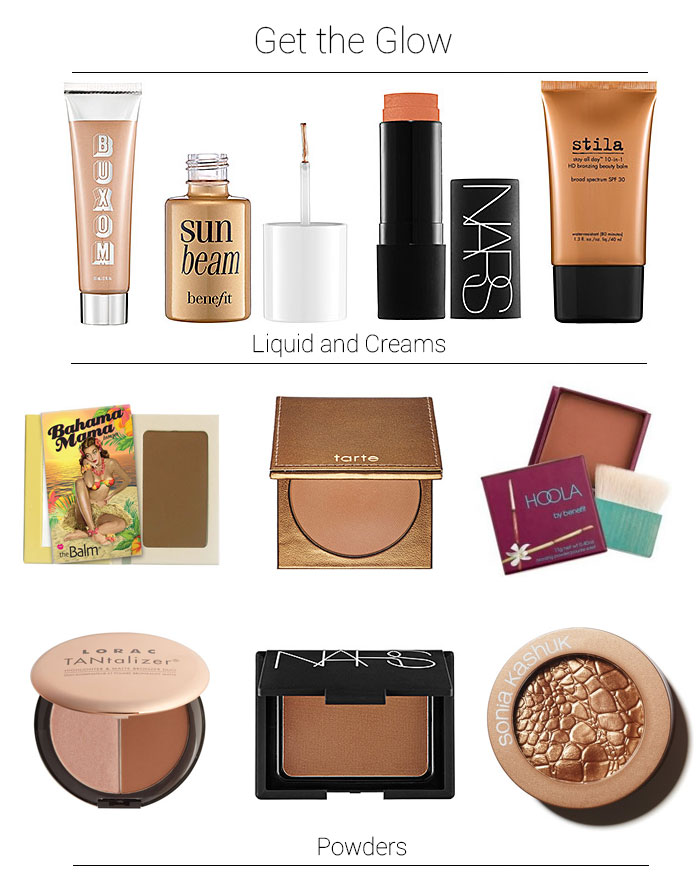 With spring right around the corner, it's time to start pulling out those bronzers. Now, one of the big trends in makeup this spring is the all natural look but it's still nice to get that natural sun kissed glow as well. With so many bronzers out there it can get a little confusing as to which one to choose so I've put together some of the top rated bronzers out there right now. If you notice, I have listed both powders as well as liquid and creams, but how do you know whether you need powder or liquid?
Liquid, or cream bronzers will give you more of a dewy complexion as opposed to the matte finish that powders can give. Also, if your skin tends to be on the dryer side, creams, and liquid bronzers would be your best choice. One thing to keep in mind when using these types of bronzers is to make sure you blend in properly and avoid streaks or lines- powders may be a little easier to blend in with a brush.
Tips for wearing bronzer:
– Apply on areas where the sun would naturally touch the skin like your cheeks, forehead, nose, etc..
– Apply powdered bronzers after foundation, concealers, and setting powder.
– Apply liquid bronzers before your setting powder
– Do not apply with the same brush you use for applying blush to avoid an uneven application.
– Start with a light application! It's easier to add on color than to have to take it off because you applied too much..
Liquid Bronzers:
Buxom Divine Luminizer | Benefit Sun Beam | Nars The Multiple | Stila Bronzing Beauty Balm
Powdered Bronzers:
The Balm Bahama Mama | Tarte Matte Bronzer | Benefit Hoola | Lorac Tantilizer | Nars Bronzing Powder | Sonia Kashuk Illuminating Bronzer