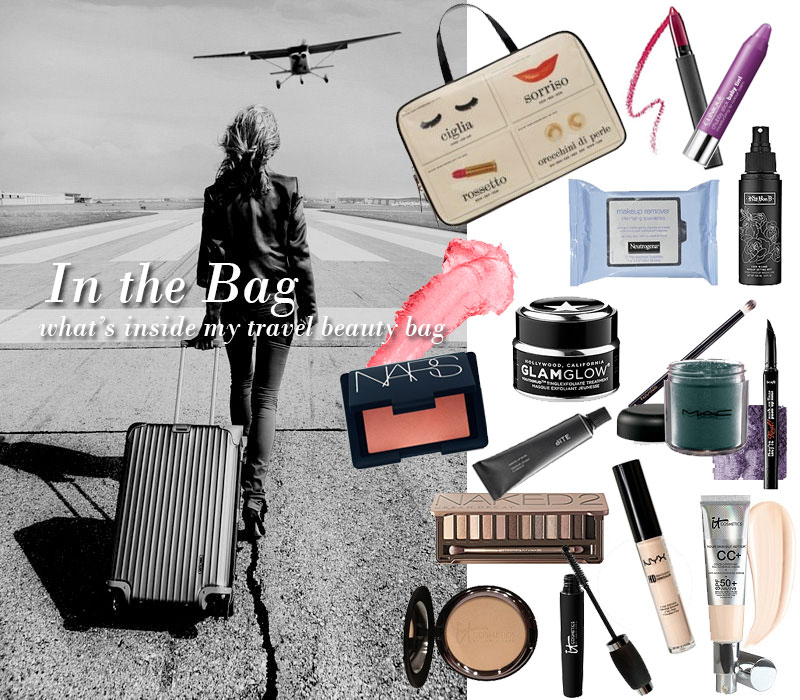 Usually when I travel, I like to just stick to the beauty basics to keep my makeup bag light. Of course, it changes depending on the destination and what types of activities are planed. For example, on my trip to Europe I tried not pack too much and just kept it to the essentials which included a basic nudes shadow palette to save room, and just 1 of my lipstick faves. For my trip to New York this week, I ended up packing up a little more than usual considering I was not only going to be out enjoying the sites, but also attending some shows and going to a nice dinner in the evening.
It may sound like a lot, but they are mostly small items, and I am able to fit it all inside the Kate Spade cosmetic case I got earlier in the year before I left to Europe. Here's what I packed in my beauty bag for my trip to New York:
– CC Cream and Foundation Powder: These are always a must have for me anywhere I go.
– Blush: Although I have been wearing my Clinique cream blush, I opted for a powdered blush like Nars for this trip to make sure it lasted throughout all that walking around. I also happened to have a small trial size of Too Faced Chocolate Bronzer so I brought that along too. Otherwise I wouldn't of bothered bring a full size along.
– Eyes: A far as eye products go, this is where I added more than usual. Of course I went with the usual mascara, and shadow palette, like Naked 2, that has all the basics. Of course, I also had to pack eye liner and went with the Benefit Cosmetics They're Real Liner. This time, since I was headed to New York and it just so happened to be Fashion Week, I added a few more shadows. MAC Black Tied, my absolute favorite black shadow ever for when dressing up at night; It has a little bit of a silver sparkle. And MAC Pigments in both green and purple to add some color to the little black dress I planned on wearing to the Glam dinner. One more item I packed that I usually don't were false lashes, I figured I might as well have some fun with my makeup look while out on the town. Although they were falsies, I still went with a more subtle look by using Ardell accents which is just for the outer corner of the lashes.
– Concealer: I don't always wear concealer especially when I'm just spending it low key, but when traveling I usually go to bed a little late and wake up early to have time to enjoy the city and other activities so a little brightening under the eyes is usually needed. Concealer of choice for this trip was NYX HD Photo Concealer.
– Lips: I always have to have my Bite agave lip mask with me otherwise my lips become a chapped mess. I also brought along a darker plum lip color, and a more natural one for when I was out walking the city in the day.
– Setting Spray: This stuff really makes a difference! Just a few sprays once you are finished applying your make up and your makeup will last you all day without having to reapply, even while walking in the hot and humid weather that I experienced while in N.Y.
– Makeup Brushes: I only brought 4 with me. My cc cream brush, powder brush, blush brush, and 1 shadow brush. I did mean to bring about 1 or 2 more shadow brushes since I had planned on using the black shadow and color pigments, but I completely forgot to pack them. So, I ended up just using my finger for the color.
– Skin Care: To remove my makeup I always use Neutrogena makeup remover wipes and then follow it with Neutrogena Cream Cleanser and the Clinique Facial Cleansing Brush. I also brought along my Glamglow exfoliating treatment just in case my face needed a little extra care.
Shop the Story: