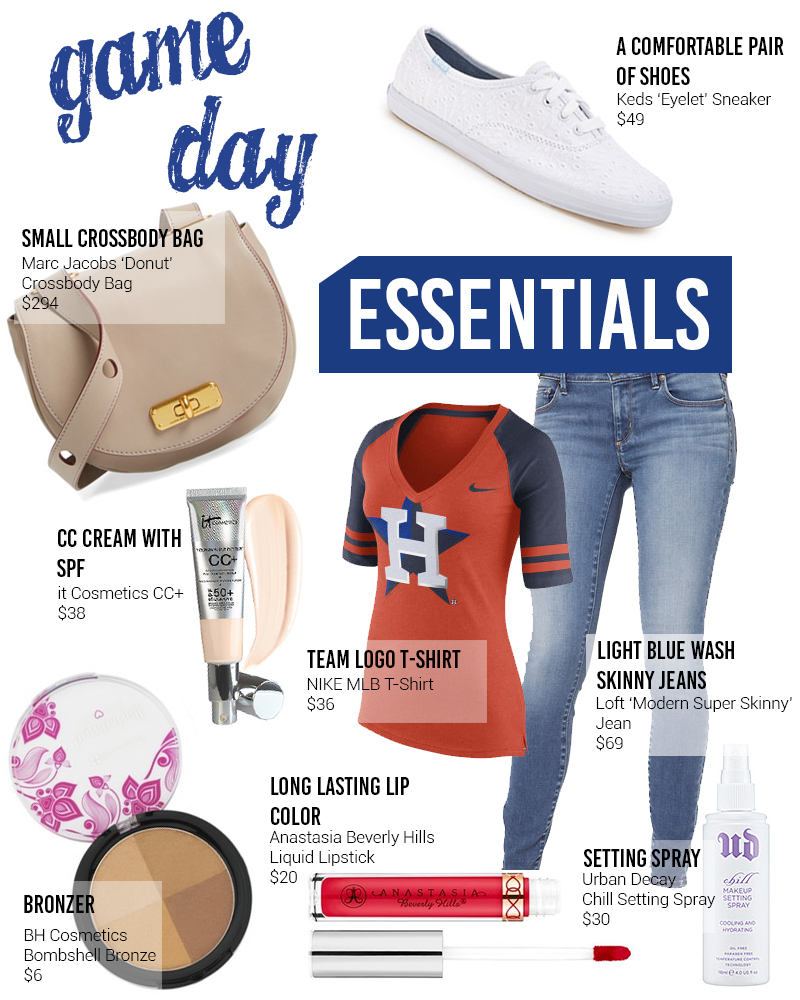 Today is the start of Baseball season, and I'll be spending the day at opening day festivities and then enjoying the first game of the season.
Here are some of my game day essentials!
– A comfortable pair of shoes: There will be a lot of walking, and a lot of standing, so a comfy pair of shoes is a must! I recently picked up this pair of keds to replace some old ones I had that got a lot of wear.
– A small cross body bag: I don't carry much when I go to games, but I need a small bag to put my phone in (so I don't have it in my back pocket while sitting down), and a place to carry a lipgloss incase my lips get dry.
– CC Cream with SPF: Like I mentioned in this previous post, I like to wear a cc cream since it's light weight, has good coverage, and has SPF.
– Skinny Jeans: I don't do shorts, so a pair of light wash skinny jeans is my preference.
– Team Logo T-Shirt: Can't go to a game without showing support for my team! I really like this top because of the length of the sleeves.
– Long lasting lipstick: Between the eating and the drinking, I want to make sure my lip color lasts as long as possible! The liquid lipsticks from Anastasia Beverly Hills will definitely do the trick.
– Bronzer: It's spring time so I want to have a nice sun-kissed glow!
– Setting Spray: Just like my lipstick, I don't want my makeup going anywhere all day… and I don't want to have to carry any makeup with me for touch ups. That's why I won't leave my house without setting my makeup!
– Sunglasses: Can't forget the sunglasses to help block that sun!