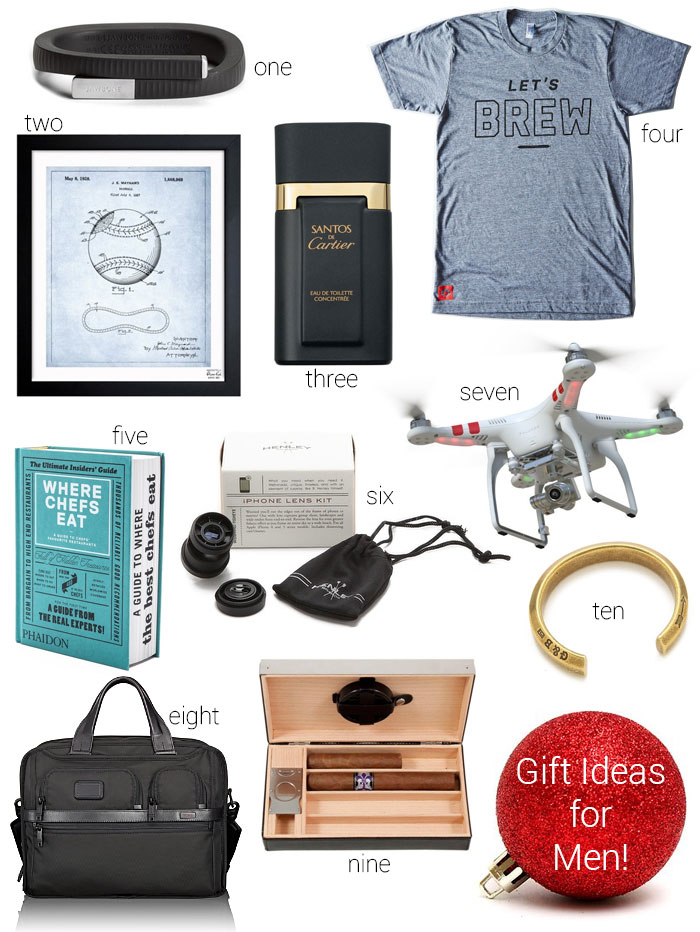 A couple of gift ideas for men that are a little different than your typical shirt, or tie… If the man in your life loves tech, or gadgets, how about gifting them a drone! This drone comes with its own camera so it's a little more of a splurge, but there are also some that you can attach your own GoPro to them, which brings the price down (this one is on sale for $419). For the guy that enjoys snapping pictures on his phone, I like this lens add on that comes with a wide angle, and fish eye lens )I would pair that with a selfie stick for a fun gift).
Here are some more gift ideas for men whether they are a fitness freak, a foodie, or just your classic guy.
Jawbone Fitness wrap
|
Baseball Sketch
|
Santos de Cartier Cologne
|
Let's Brew Tee
Where the Chefs Eat Book
|
iPhone lens add on
|
DJI Phantom Drone
|
Tumi Laptop Case
Leather Humidor
|
Giles Hex Cuff

More gift ideas: for mom, for the beauty lover, for the hostess.