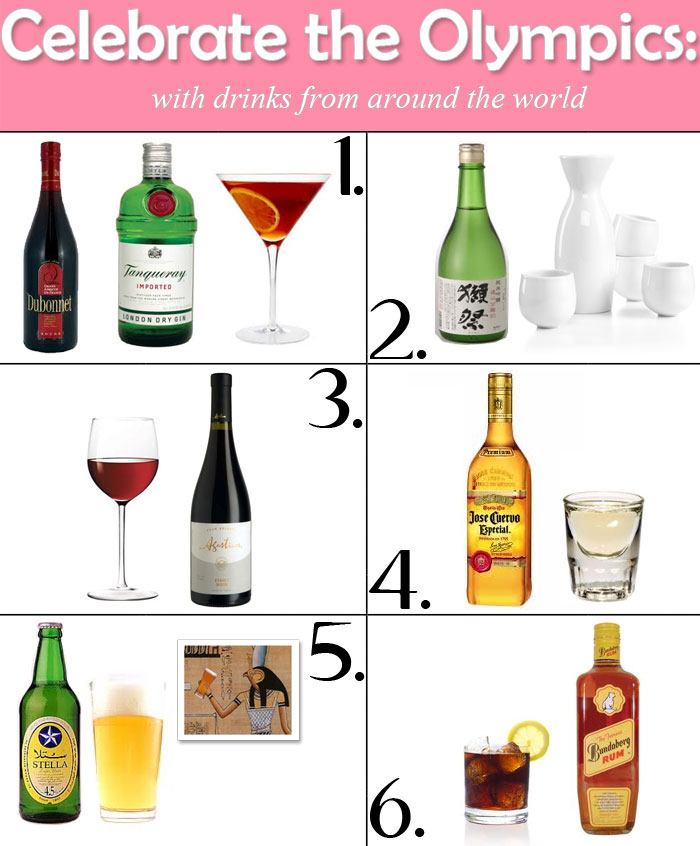 The Olympic games are upon us! Thousand of athletes from all over the world will be competing for their country in London and hoping to bring home the gold. While we watch at home and cheer on our favorites it's the perfect time to get to know a little more about the countries all these amazing athletes are representing. Many of us like to enjoy a nice adult beverage while watching sports, so why not change up the routine and try something new! Throwing a viewing party? Why not have your guest bring a beverage (or food) from a different country.
For my six picks I went with something from each of the continents being represented at the games.
1. Great Britain: Since the games are being held in London it is only appropriate that I pick the Queens favorite drink; a Dubonnet Cocktail made with London dry gin and dubonnet.
2. Japan: Sake is a traditional Japanese drink made from rice, often served warm and served in a ceramic sake set.
3.Chile: Wine production in Chile dates way back to the 16th century thanks to the regions pleasant climate.
4. Mexico: Tequila production in Mexico dates back to the 1500's and it wasn't until 1884 that the first tequila was eported to the U.S by the founder of Sauza Tequila.
5. Egypt: Beer is actually a very traditional beverage all around Africa. Beer was such a part of life that it was even once used in as currency, and is often found inside most tombs.
6. Australia: While you might think of beer when it comes to Australian alcoholic beverages, one of the most popular drinks is Bundaberg Rum. The Bundaberg Rum company even produces their own cola to mix with their rum.