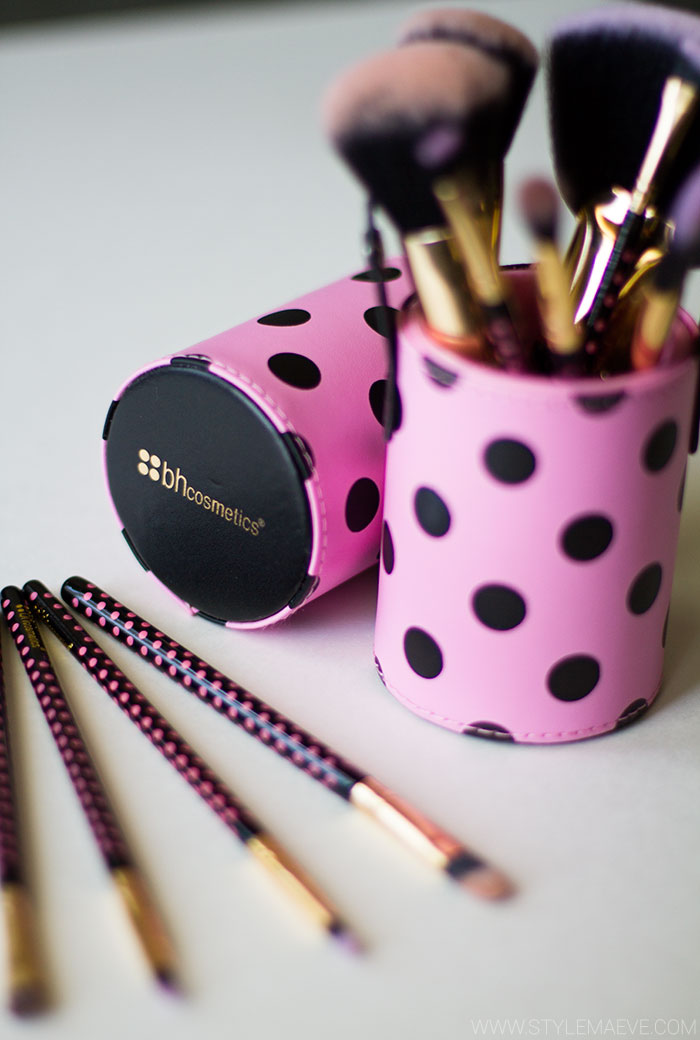 I recently got this BH Cosmetics 11 piece brush set (along with other products that I will share in a different post), from BH Cosmetics, which comes with a pink and black polka dot case that is great for storing or for when traveling. If you aren't familiar with bh cosmetics, they are a brand of affordable yet high quality makeup known for their makeup palettes. They have a really great selection of eye shadow palettes that is great for those of you starting to play around with different eye makeup looks.
Here is a little info on the brush set.
Set includes 11 synthetic (cruelty free) brushes and a faux leather snap case for storing your brush set.
Tapered Eye Liner Brush
Tapered Shadow Blending Brush
Angled Blush Brush
Deluxe Fan Brush
Powder Brush
Foundation Brush
Classic Shadow Brush
Lip Brush
Angled Shadow Brush
Flat Eyeliner Brush
Small Smudge Brush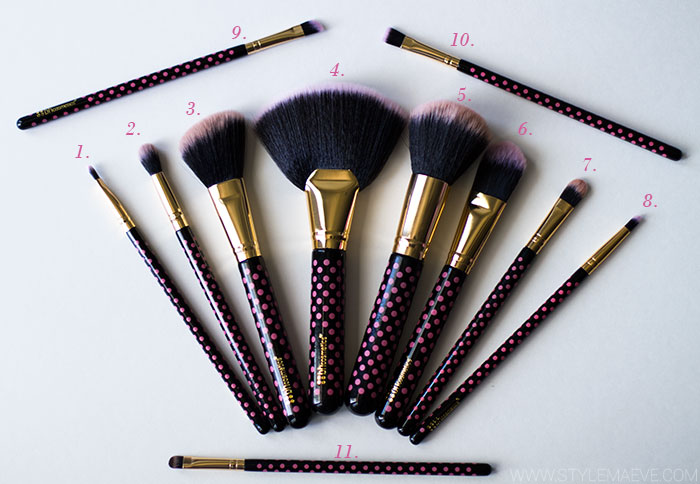 The makeup brush set retails for $24.95 which I thought was a really good deal for the quality and variety of brushes you get.
This set is a nice choice for those of you who just looking for a set with all the basics as it includes 4 face brushes, 6 eye brushes, and 1 lip brush. (My favorite: the tapered shadow blending brush, and fan brush!)
I recommend it to anyone who is not a professional and is starting off playing around with makeup. It's a great way to get familiar with different types of makeup brushes.
They are incredibly soft, especially for the price.
The bristles pick up the product nicely and feel great when applying it on your face.
So far, I have not experienced any shedding of the bristles while using them, which was something I was a bit weary about at first. I use a daily brush cleaner spray on my brushes after every use and didn't experience any shedding during that either. Note: the color difference of the bristles in the pictures is due to the fact that I have already used some of them, they originally come with a purple tinted tip.
BH Cosmetics is available at bhcosmetics.com and urbandoutfitters.com