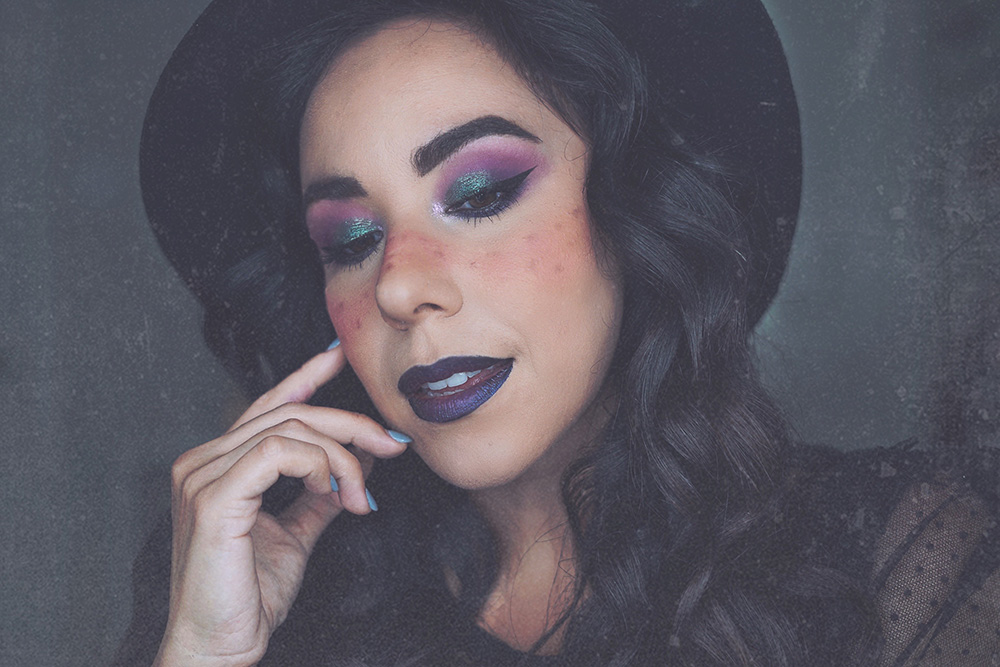 For this Halloween look, I have partnered up with Walmart to bring you a fun, yet easy witch makeup look! I got everything I needed at Walmart.com. Which was perfect because they have their 2 day shipping! So, if you are looking for any last minute products for your Halloween looks, they definitely have you covered. They have such a huge selection of makeup and beauty products it was easy to find what I needed for this look.
I wanted to do something easy that anyone could replicate. And, also something you wouldn't need too many products for. I used just one eye palette that could have easily put together a variety of looks. I like how it has an assortment of different finishes in the shadows from mattes to foiled shadows, like the green one on my lid.
For the cheeks, I went with an ultra rosy cheek. I think it makes it really playful, as do the freckles. On the lips, to compliment the purple smokey eye, I went with a metallic lip color in a bluish/purple shade. Finish off the look with some ringlets and a classic witch hat and you're all set!
I hope you guys like this easy witch makeup look! Are you more of a scary witch, or a friendly witch type?