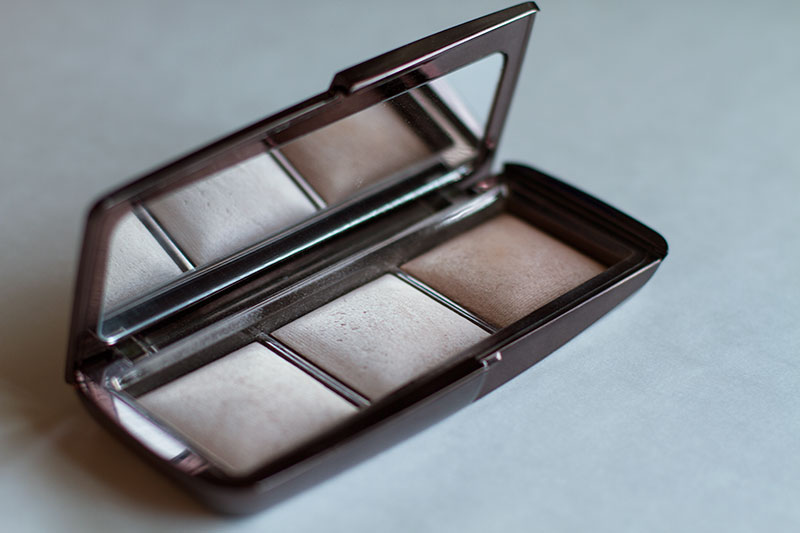 Some quick thoughts on the Hourglass Ambient Lighting Palette – I had been wanting to get this one for a while after reading so many good reviews of how amazing it made everyone's skin look. I have been really happy with my face powder so didn't want to spend an extra $58 on another, but finally decided to give it a shot. As soon as I got it I of course wanted to test it out right away! From the first day I tried it however, I was not really impressed. It looked nice, don't get me wrong, but I just didn't get the hype.
The middle shade, incandescent light, did give a nice sheen but nothing I couldn't get from other highlighters I have tried. I used the darker color, radiant light, on the outer parts of my cheeks and forehead where I would normally use a bronzer or contour. Once again, I didn't see much of a difference between this and other bronzers I had. As for the medium color, Dim Light, I tried lightly dusting it all over my face to set my makeup but found it to be too dark for my skin color. As far as the claims of it's blurring effect on the skin goes, I didn't see it…. maybe It is more noticeable in pictures. For me, I felt like it brought attention to lines that I didn't want to bring attention to instead of diffusing them.
On the good side… The quality of the powder is really good quality, light weight, and does give your skin a light glow.
This was obviously a miss for me, and I ended up returning it after just trying it on twice. I just didn't see the need for me to keep a $58 palette that I would not get much use out of with the two darker colors not looking right on my skin. I had thought about exchanging it for a full size of the incandescent powder but then realized it is only exclusive to this palette. That, and I can get a nice highlight on my cheek by using other products.
If you are thinking about getting the Hourglass Ambient Lighting Powder, I would suggest taking a look at the individual lighting powder and find the best color for you (they have 6 to choose from). That way you get the most out of it and don't have a palette with a color or two you may not need.
Have you guys tried this palette or the individual powders before?