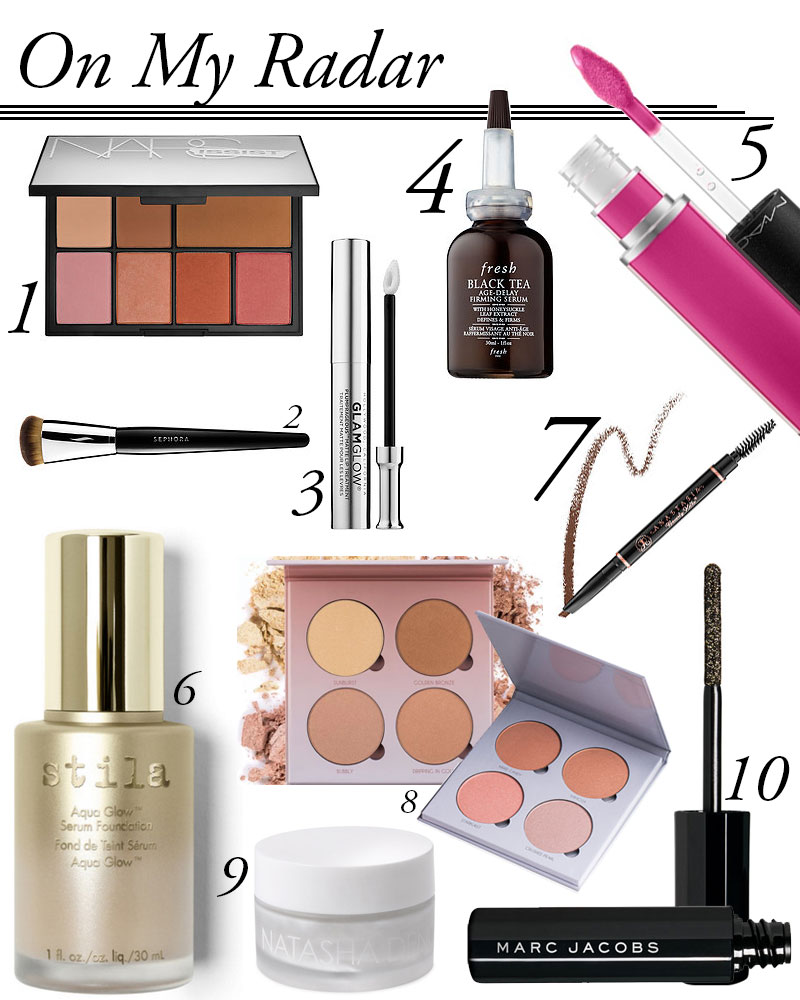 Some of the latest in beauty products that have caught my eye and made the list of products to try!
1. Nars Narssist Cheek Studio Palette: Nars is one of my favorite brands when it comes to blush so I'm sure this cheek palette with blushes and bronzers wont disappoint. It also comes with a nice color range that also makes it a great palette when traveling.
2. Full Coverage Complexion Brush: The shape of this brush makes it easier to get into those little areas around the nose, kind of like the beauty blender does, but it claims to not soak up as much product as a sponge. Depending on the type of foundation, I like to use both a sponge and a brush when applying it so I'm interested in seeing how this compares.
3. Glam Glow Pumprageous Lip Gloss: I got a little excited when I saw Glam Glow came out with a lip plumping gloss. I know lip plumpers aren't for everyone, not everyone likes the tingling sensation that occurs when you apply them, but it really doesn't bother me (I used to wear the Too Faced Lip Injection all the time). I've liked pretty much every product I've tried from them, so I really want to try this Plumprageous Lip Gloss out.
4. Fresh Black Tea Firming Serum: My night time skin regimen is basically all product by Fresh so of course I am interested in trying out this new product by them that helps firm the skin.
5. MAC Retro Matte Liquid Lipstick: If you haven't gotten enough of matte liquid lipsticks then I know you are going to want to try these out by MAC just as much as I do! They come in 15 shades so it's going to be hard to just pick one.
6. Stila Aqua Glow Serum Foundation: With the winter weather drying up my skin I've been on the lookout for a foundation that will give me a healthy glow. It's infused with an electrolyte balance system which help hydrate and nourish skin as you wear it.
7. Anastasia Beverly Hills Brow Definer: This brow pencil caught my eye because it has an angled end on the pencil, which I find easier to work with.
8. Anastasia Beverly Hills Glow Kit: It's all about strobing this winter season, and from all the swatches that I have seen this kit will give you the ultimate highlight. It comes in both warm and cool tones.
9. Natasha Denona Face Glow Primer: Like I said, my skin has been pretty dry lately. This primer is formulated for dry skin and claims to hydrate the skin while helping to set your foundation. I feel like this would give you a healthy glow from within type of look, so I definitely want to try it out.
10. Marc Jacobs Lame Glittering Mascara: This top coat mascara has a glittering effect thanks to small speck of gold glitter. It looks like a fun addition to a night out makeup look when you want to draw some attention to the eyes.
What new beauty products have you been wanting to try out?