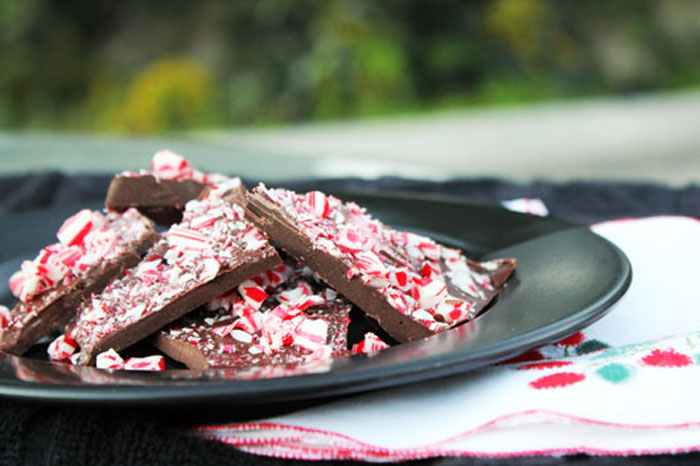 I found this super easy and affordable recipe for candy candy cane bark that I wanted to share. Not only does it make a fun treat for you, but you can package it up in a pretty box or festive cellophane bag and it will make a great gift.
Ingredients:
1 16 oz. bag semi-sweet chocolate chips
1 box candy canes (12 pack of canes)
White chocolate chips (optional for second layer or drizzling)
wax paper
Directions:
Using a 9 x 9 square baking pan, grease the bottom and sides and line it with a big piece of wax paper, pressing it into the edges and corners. Set aside.
Unwrap candy canes and place into a large ziploc bag and seal. Using a heavy object (hammer, mallet, bottom of a pan, etc…) crush until desired texture. Set aside.
Using a double boiler, melt the chocolate, stirring constantly and being sure not to splash water into the chocolate. If you have a larger double boiler set-up you can add all of the chips at once, but if you have a smaller set up, add the chips in a few stages, melting them as you go.
Pour the melted chocolate into the lined baking pan. Spread with a spatula, until evenly distributed. Sprinkle the crushed candy cane pieces over the top. Optional: you can add a melted white chocolate layer to the top and follow with crushed candy cane, or simply drizzle some white chocolate on the top for decoration.
Place in the fridge for at least 1 hour.
Using the wax paper liner, lift the chococlate out of the pan. Break the candy cane bark into desired piece-size.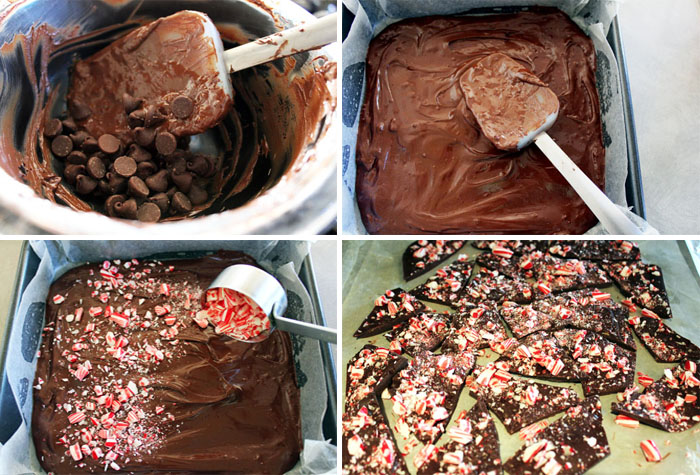 Recipe and Picture Via